Race Directors report and thoughts:
2022 was the 5th edition of the Scafell Sky Race with Rab as the race sponsor.
This year saw less numbers entered than any other year and all we can assume is that the current financial climate, coupled with the platinum Jubilee, a lack of training and confidence for many runners since 2020, has brought this about.
127 skyrunners were entered into the event for 2022 with only 84 turning up on the day of the race to put themselves against some of the most technical skyrunning in the English Lake District.
In previous years, LDST skyrunning events have usually only seen a 10% no show, but this year the figure is around 40% which is huge. We hope all those that didn't make it to the race day recover well for 2023.
There was a great mix of skyrunners of all abilities, with many taking the Rab SSR on as their first ever skyrace to the elite end of the field seeing a return of Tom Evans, 2nd place in 2018 and Georgia Tindley racing for Rab, with elite runners such as Jayson Cavill [Montane], Brian Sharp [Rab], Oliver Mitchell [3rd place in Snowdon Sky Race 2022], Mark Darbishire [Lakeland 100 winner in 2021], Spencer Shaw [SSR previous winner and CR holder in 2021] and in the mix for the women there was Helen Brown [South Wales Wmns Record Holder], Alicia Schwazenbach [placed 3rd in the Snowdon Sky Race]. WE have to say, we were very 'light' on female runners for 2022 and hope to see many more in the 2023 edition of the race. Outside of the elite runners, Roberta Guibillini had a fantastic race, taking 1.5 hours of her own time from last years race.
As usual we had a great mix of nationalities in the entries and out of those that came to run on the day we had skyrunners of Italian, United States, Canadian, Irish and Dutch nationality.
I have to say, it was fantastic to see runners from the flatlands of the Norfolk Wolds and Fens, runners from the South West, the South East, the Midlands, local runners and of course north of the border in Scotland, basically from all over the place, all joining together in the valley of Great Langdale, whilst the rest of the country got on with the Platinum Jubilee, to support the Rab Scafell Sky Race. We booked the weather and laid out the course, but you guys make it possible, as without participants, we do not have a race.
Race medals and cider:
We try to organise the events as best we can, however there were some big gaps in this and last years organisation.
We really concentrate on the race marking, the mountain safety and making sure the actual race plays out as it should do, so all you need to do is turn up to run/race and enjoy your day.
However, the cider has been an issue in the last few years and this is not how it should be. Last year we couldn't bottle it due to the world situation, this year we couldn't bottle it again due to not having enough cider to make the bottle run.
Last year we supplied you cider in pints or half pints on the finish line and all was good. This year, I was informed less than 48 hours before the delivery of the race that the cider we should have been having had turned to vinegar. I must take full responsibility for this and all I can do in this instance is apologies.
The cider was always made for supplying a wider market than the races and Cowmire Hall, who produce it locally [my brother-in-law], have lost a couple of thousand litres, so it is a problem for them too, but the cider was your medal.
Those who know me well enough will understand I do not want any waste at our events, however I'm practical and know we create something, however medals are not my thing and I just see them as landfill for the future. This is why we produced the 'cider bottle medal'.
I hold my hands up however, as I have failed miserably here. I have failed to react to the fact we cannot bottle the cider at the present time.
I will have an offer in the competitor follow up email to soften the lack of any type of race medal and will have a solution for 2023 so you or those of you who come back, will have a medal of types, that will not add to the ever growing problem, that the commercial world we operate in creates, of waste and rubbish.
The medal will either be easily recyclable, not made of any type of plastic, be easy materials to source and produce and likely be edible in some way.
We would like to thank Rab for brining their beer along, as this made it possible for you all to still have a little tipple at the end of the race.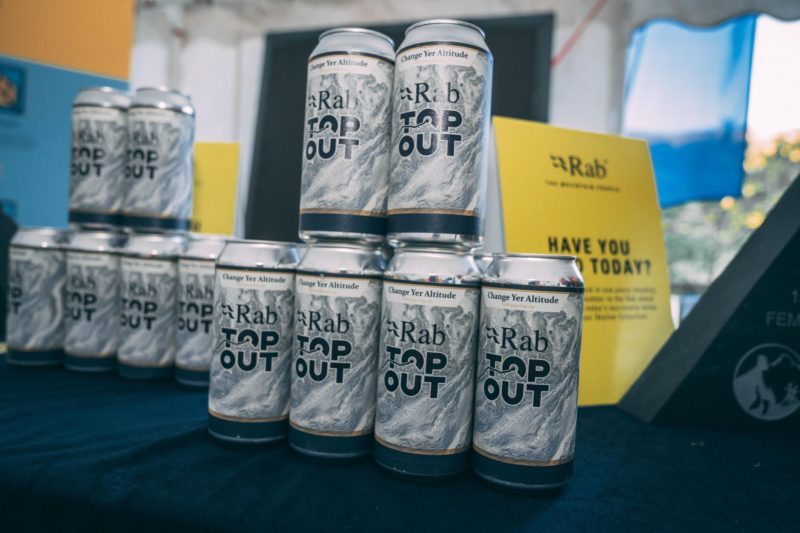 Cut Off's, Course Closure and the Safety Team:
This year we extended the course closure by 1 hour, this was to allow those who didn't feel as fit as they should be, to finish the race inside the course closure time.
For 2023, we will be moving back to the original course closure of 10 hours, being 18:30. This will mean that the cut off at Styhead Tarn/MRT Stretcher Box will be enforced 100%
The reason we have these cut offs is to ensure we have everyone off the mountain in a timely fashion, looking after both participants, marshals and safety team members.
Over the last 2 years, we have existed on the same day as the fantastic and uber hard Trialthon X, however next year the Trialthon X is not happening and we will be changing the date due to another race in Grasmere being on the same weekend, sharing similar fells. When we have shared the date with TriX, we have experienced a very large safety team of 14 mountain professionals on the mountain, for 2023 we will be back to our normal number of 6, plus we will be adding a couple of extra safety marshals, taking the number to 8.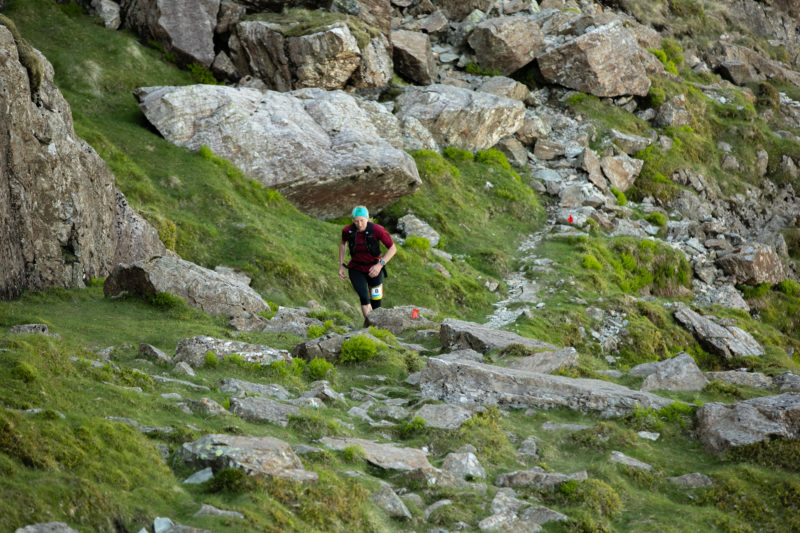 The Events Centre and new races:
Previously we have had the events centre at the Sticklebarn, but Covid put a spanner in the works for the last few years.
The Rab Scafell Sky Race is a fantastic race, we love it, you love it, its awesome. However, the weekend is somewhat lacking.
We know it, you know it and we're sorting it.
We are in the process of investigating the Sticklebarn in someway for 2023.
New things on the cards for 2023:
An all new Friday night uphill race
Two new sky/trail races to add to the weekend
Yoga for spectators over the weekend
A kids race for families spectating
Food availability for spectators and competitors
What we are saying, is the Rab Scafell Sky Race will develop into a weekend affair, so you can enjoy more whilst your up here, not needing to leave the valley of Great Langdale, which is a pretty awesome place to hang out.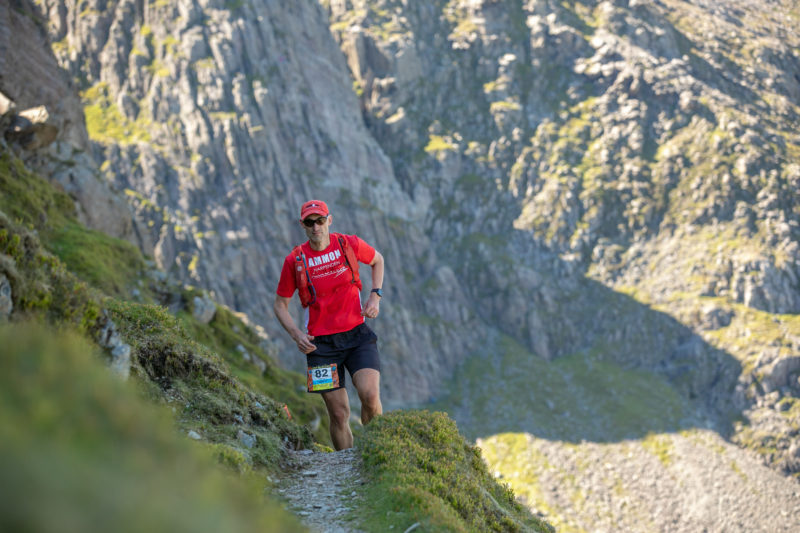 Flags and route marking:
We are very proud of how we mark the courses and always mark for bad weather. The fact we experienced good weather is a bonus, but we try to improve each time.
This year there were over 2000 flags on the 40km course, thats an average of a flag every 20m, some area's flags every 10 metres. We have also stepped up on the number of arrow sign boards and found you found these very useful and with over 100 correx arrow's on the course this year, we thought it worked very well.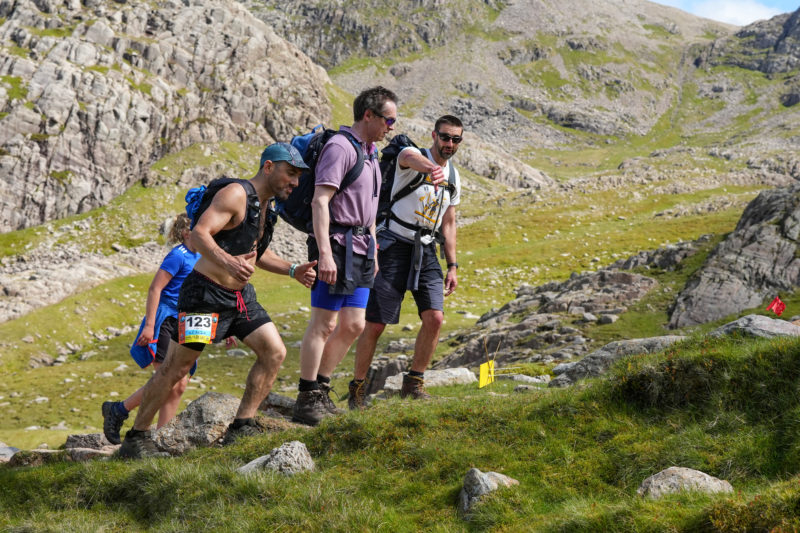 Scafell Pike Section:
We know the Corridor Route and ascent to Scafell can be very busy and this year it was especially busy.
For next year we are adding extra marshals in for the ascent from the joining of the Corridor Route to the summit and then will add extra signage to help the 3 Peaks walkers/general tourists, enjoy you coming past. Idea's of goat bells for walkers to ring, some type of interaction and trying to integrate skyrunners and tourists with everyone feeling they have gained something from it.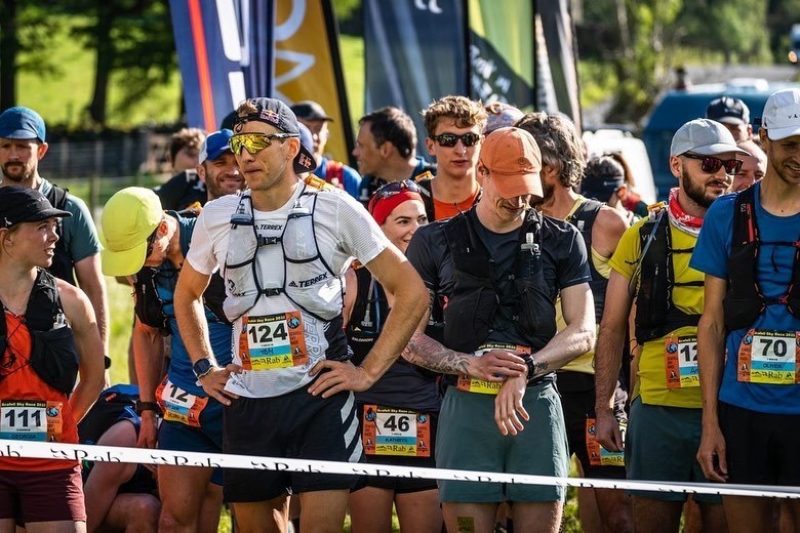 Race Photography, Results and Write Up's:
Just a reminder that race photography is live, you can purchase here:
https://www.route-north.photos...

Race results can be found here: Rab Scafell Sky Race Results 2022
Also, if you have a write up, please send it to us as we would love to feature it on our Social Media pages or add it to the website, here is a little write up by Brian Sharp, a Rab sponsored athlete:
Brian Sharp is at Scafell Pike.

pdnortsSeo70lct4utc2a6910c0504hh74tu2gtg51 ·

"Want to know how to become a better athlete? Surround yourself with really great ones. Get inspired, get hungry for more, find out the distance between you and them and work bloody hard to shorten it. Sometimes we read race reports and look at race results not really having a concept of how fast elite runners really are. Turning up to race against really great athletes not only inspires me hugely but reminds me of the work there's still to do. First hand experience of the distance. I'm a really positive person, and am lucky to always look at things in such a way - I know that's not always easy for everyone. So next time you're worried about toeing the line against people that are faster than you, remember there's someone faster than them, and someone faster than that someone (maybe). Don't fill your head with negative thoughts, and go out there and push yourself, find the gaps, your limits and work on shortening them
That's all there is to it. Everything in between and before and after become memories you'll use to fuel the next one, and on and on and on."
Rab Scafell Sky Race 2022 film:
View the race film below:
The Rab Scafell Sky Race 2023:
Save the same weekend for 2023!
The Rab Scafell Sky Race will be back with more bells and whistles than ever before, on the weekend of the 2nd/3rd/4th June 2023.
Entries will be on sale on the 1st October 2022.
Look out for the new shorter trail/sky races and we look forward to seeing you in 2023!
Rab Lakes Sky Ultra and Rab Pinnacle Ridge Extreme 2022:
Entries still available for both races.
Use the links below:
Rab Lakes Sky Ultra 2022 - 57km with 3700m ascent [NO VETTING]
Rab Pinnacle Ridge Extreme 2022 - 28km with 2700m ascent [STRICTLY VETTED]