Having raced in the Lakes quite a bit and been on countless adventures there I was super excited to come and race this Skyrunning classic in the heart of the Lakes. Great Langdale is such a magnificent setting and the surrounding views and prevailing sunshine did not disappoint. I have a lot of respect for these types of events. Sending runners into the mountains on challenging terrain really requires incredibly experienced organisers and volunteers to support and with the Rab Scafell Sky Race you're never in any doubt of this.

The Rab Scafell Sky Race takes you on a journey through some of the most rugged, rocky and technical terrain in the Lakes, whilst still maintaining the running movement throughout. As a runner first, I always enjoy most races where I feel I can really open my legs on technical terrain and Scafell Sky Race has this in buckets. From traversing around notorious Great Gable, to the infamous Corridor Route to meet England's highest summit, Scafell Pike there's so much to keep you entertained as you battle physically and mentally against the mountains to get back to the Great Langdale.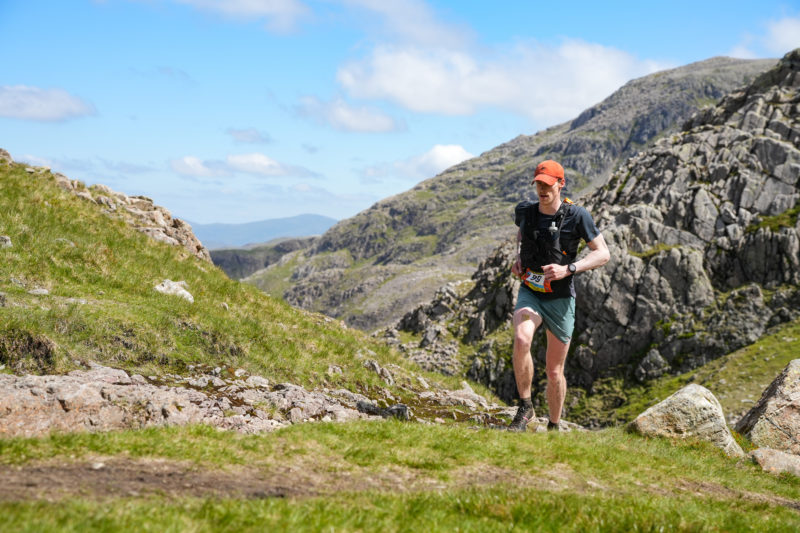 Whilst there may be decent runnable sections, the race begins in the only way a true mountain marvel should, by steeply and relentlessly climbing to the first summit of the day, Harrison Stickle. Your final moments of ascent are made by grasping the lumps of grass and rock as you literally pull yourself up to the summit. A quick glance at your watch sends a serious gulp down your throat at the prospect of how difficult this challenge could be. Thankfully, nothing rewarding is easy and beyond Harrison Stickle you enjoy an amazing decent to Stickle Tarn and a view of Pavey Ark – before then ascending it. These initial climbs are then left behind on a long and super fun, technical descent down towards Seatoller and eventually passing through Seathwaite. An opportunity to get some goodies to help you on what is set to be some of the most challenging miles of your life. I took this opportunity to drink a few bowls of water with heaps of salt, a very welcomed beverage at this stage.
The climb out of Seathwaite was steep and arduous and culminated in a bit of a zig zag up a waterfall before heading towards Green Gable and then the Col between it and Great Gable. Once of the sections I was most looking forward to was the traverse around Great Gable itself. By this point I had been running on my own for a short while, having taken 3 places on that long descent to Seathwaite. It wasn't long though until I was fighting for a position as a runner had caught up with me half way around Great Gable. In all seriousness this was a much-needed re-infusion as I do tend to take the foot off the gas when I'm on my own for too long. So, the runner effectively dragged me around the mountain. We chatted a little, like all other runners you're likely to meet on these types of excursions he was incredibly happy to be there, very friendly. Then he dropped me. I did, however, catch back up on the climb up Corridor route. I'd left something in the tank for this section, knowing it would be the last 'real' climb of the race.
This is by far my favourite way to ascend England's highest lump and even with the hoards of people on the climb, I found I was slightly rejuvenated. I think when you've been on your own for a while, suddenly when there's a lot of people around there's seemingly this extra gear that kicks in. The gear was lost by the summit though and I had fatigued quite badly – possibly from a little too much extra gear on the climb up. The friendly runner passed me at the summit and from there on it was all about getting home. I actually felt slightly dizzy coming off Scafell Pike. My coordination seemed a bit lacking, so I was really quite slow on the descent. I used my head and really stuck in, concentrated on moving that little bit slower and by the time I hit the final summit of the day, Bowfell, I was back to my normal self, raring for a speedy and long descent back to the finish.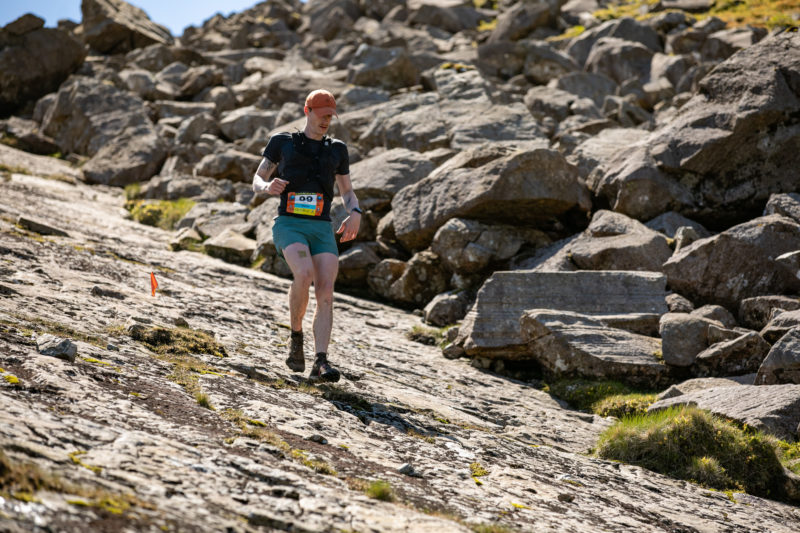 The most striking part of the entire route for me came on the descent off Bowfell. A huge slab of rock that at first sight seemed quite impossible to run down. It turned out to be a really fun way to get off the mountain and the whole scenario really reinvigorated me. The next section of running on a gorgeous little traverse trail eventually brings out onto the main bulk of the mountain and the trail becomes more obvious the closer to the bottom of the valley you get. I'm someone that relishes the flat moments on these races, I know it's not necessarily the consensus view, but I absolutely love coming off the mountains then having a little flat or road section to really open the legs on before the finish. We ran along the road at the bottom of the valley then hit a little trail that took us to eventually meet the initial trail we first set out on. A speedy little descent to the race finish and it was all over.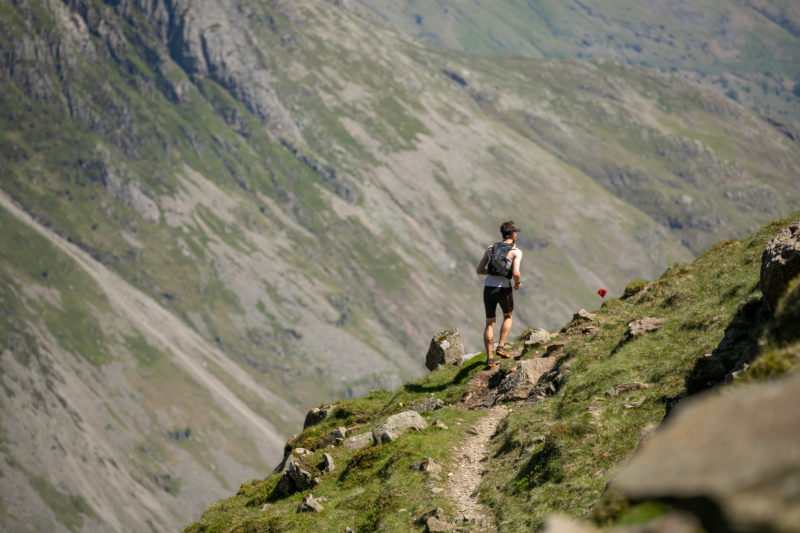 The Rab Scafell Sky Race takes you across almost 3000m of Lakeland rock and trail in some 40km of distance. You summit many fells, descend on technical, fast trails and traverse mountains in a way only 'skyrunners' dare attempt.
The route is a perfect loop of some of the UK's most magnificent mountain terrain and the views you're afforded as you fight your way around the course are just incredible.
You finish the race to a warm welcome and there's plenty of space to chill out after amongst the Langdale Pikes and soak up in your achievement. It doesn't take long for the pain to disappear and the desire to do it all again flood in.
This is a true Skyrunning classic.
by Brain Sharp [Rab Athlete]