For all media enquiries please contact Race Director Charlie Sproson at enquiries@mountainrun.co.uk.
If you have reports or images from any of our events, we'd love to see them! Please send them to us at the address above and we will be happy to include them in these pages.
Press Release Archive
Monday, 17 July, 2017
Keswick AC's Tim Campion-Smith and Australia's Lucy Bartholomew win the inaugural Scafell Sky Race
The Scafell Sky Race (SSR) is a 40km skyrunning race with 2,800m of ascent on challenging, often technically extreme terrain in the Lake District National Park, going over England's highest peak, Scafell Pike. Skyrunning in the Lake District is a combination of mountain running and mountaineering, which includeslow grade rock scrambling. SSR is an introductory to intermediate skyraceandpart of the UK Skyrunning Series.
Ambleside, Lake District National Park, Cumbria; Monday, 17 July, 2017: The Scafell Sky Race (SSR) brought an international field to the Lake District for the inaugural event. Runners came from Australia, Italy, Sweden, Ireland, the US and all over Britain for the racefrom Seathwaite to Ambleside via Scafell Pike.
Like its big brother event, Lakes Sky Ultra (LSU), which took place on Saturday, 16 July, SSR is owned and organised by Glenridding-based Mountain Run Events. But unlike LSU, it's designed as an introduction to technical skyrunning and entries are not vetted. The course, created by Charles Sproson, was designed to showcase the best of the Lakes.
Indeed the race was blessed with glorious sunshine throughout, in stark contrast to the previous day's Lakes Sky Ultra, which took place in challenging, wet and cloudy conditions. At SSR runners left Seathwaite Farm to climb past Sour Milk Gill waterfalls, up the Gillercomb Valley to the summit of Green Gable. Technical singletrack led past the Napes Needle (where rock climbing originated, in the 1880s), then a classic, technical ascent of the highest mountain in England, Scafell Pike, via the Corridor Route. After summiting Great End, crossing a boulder field, and almost summiting Bow Fell, a scree descent led to one the best singletracks in the Lakes. Next was the Climbers Traverse, the Band, beforerunners descended into Great Langdale and a feed station at the legendary Old Dungeon Ghyll. After a hearty climb to Raven Crag, Harrison Stickle, Stickle Tarn were ticked off, before some easier singletrack-running on the northern side of the Great Langdale Valley, with big views over Grasmere and classic Wordsworth country.
The first to arrive at the University of Cumbria's Ambleside Campus was Keswick AC's Tim Campion-Smith (GBR), in a time of 4:55:33. Brennan Townsend (GBR) finished second in 05:26:06, with Lawrence Eccles (GBR) third in 05:26:53."It was a highly enjoyable route that I found surprisingly technical," said experienced ultra-mountain runner Eccles. "It pushed me passed breaking point, as my legs betrayed me on the final descent off Loughrigg."
In the women's race, Salomon athlete Lucy Bartholomew (AUS), who travelled from Australia for the event, finished first (and fourth overall) in 5:34:05. Catherine Spurden (GBR), also from Keswick AC,pushed her hard all the way, coming in second (and sixth overall) in 05:43:22. Claire Wilshaw (GBR) placed third in 07:06:26. "That was the gnarliest and most technical races I've ever done," said Bartholomew, who placed first at Ultra-Trail Australia (100K) this year,at the finish line. "It was tougher than [notorious Norwegian skyrace] Tromsø.
This race should be part of the Skyrunning Extreme Series. I am so proud to have pushed myself outside my comfort zone to win this event! [I'm] in love with this sport the more places I go and the more people I meet!" At the SSR finish line, many runners commented on what a tough – but enjoyable – experience they'd had. Jennifer Rees-Jenkins (GBR) deserves special mention for being the first person to do a Lakes Sky Ultra-Scafell Sky Race double, running 96km with 7,300m of ascent across both races over the weekend.
SSR awarded prize money, as well as prizes from race sponsors Leki, Mountain fuel and (South African Jewellery company) Miglio.
The SSR returns in 2018. "Along with Saturday's Lakes Sky Ultra, the inaugural Scafell Sky Race was a great success – feedback has been excellent and really gratifying," said Sproson. "We were pleased to be able to show off the Lakes in glorious sunshine and it was exciting to have an international field here. We look forward to growing both events further in the next few years."
All images to be credited to Guillem Casanova / guillemcasanova.com.
More images are available on request.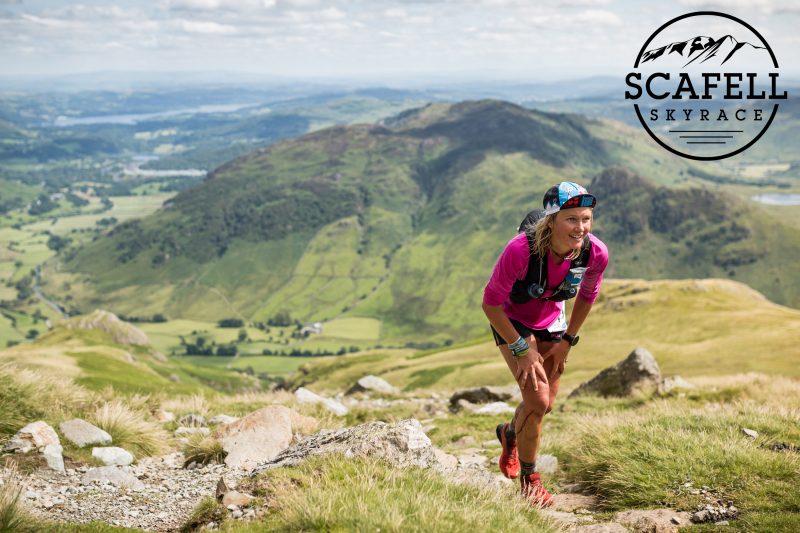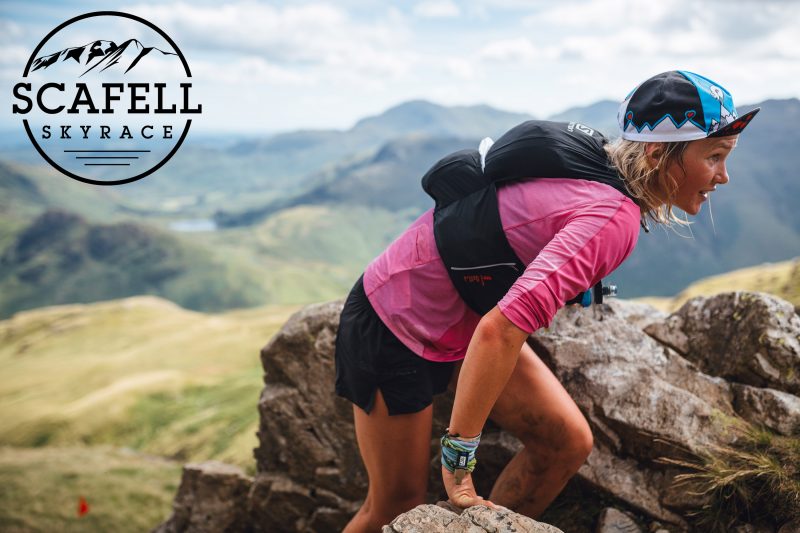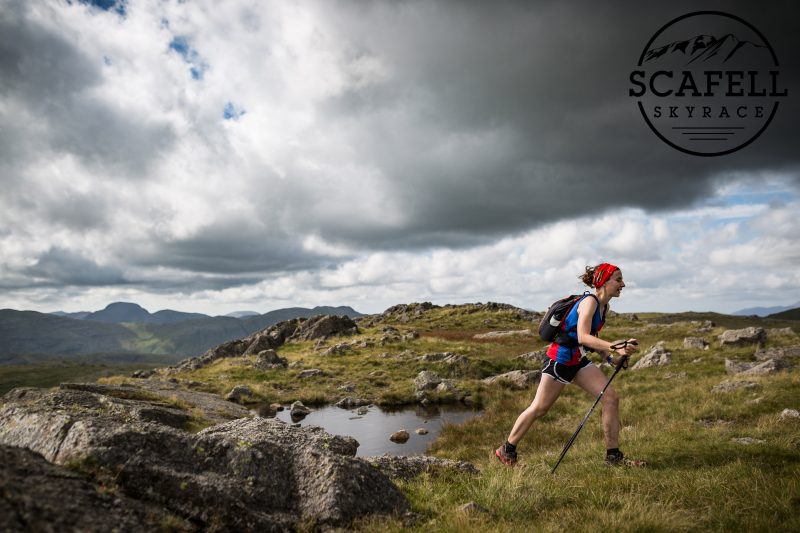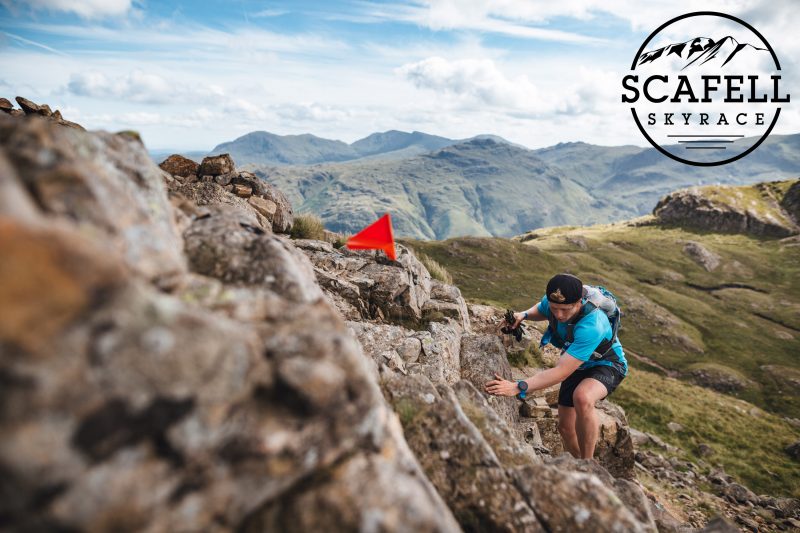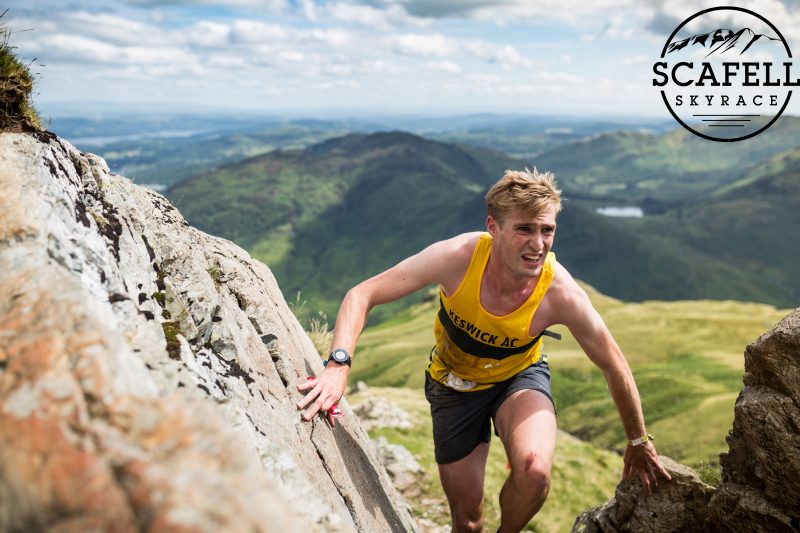 Sunday, 16 July, 2017
Andrew Berry and local-girl Catherine Slater win the third Lakes Sky Ultra
Lakes Sky Ultra (LSU) is a 56km skyrunning race with 4,500m of ascent on extreme terrain in the Lake District National Park. Skyrunning is a combination of mountain running and alpinism, where scrambling/rock climbing is likely. For LSU, runners are vetted to ensure they have appropriate levels of experience in the mountains. The race is part of the UK Skyrunning Series.s. Ambleside, Lake District National Park, Cumbria; Sunday, 16 July, 2017: The third Lakes Sky Ultra demonstrated both the international appeal of skyrunning – and the allure of the Lake District – with runners representing South Africa, Australia, New Zealand, Poland, Netherlands, Ireland, France, the US and Belgium arriving in Ambleside. A film crew and several photographers attended the race, one travelling from Spain to do so. LSU started at 7am, on Saturday 16 July, in challenging conditions for the elect group of runners – 21 of which were female. Drizzle, rain and low, heavy cloud made the technical course slippery on rock, grass and mud. Race organisers Mountain Run Events faced an additional test when in the morning it was discovered the rope needed to make Pinnacle Ridge safe for runners was missing. Competitors were still able to traverse the exposed, technical, Grade 3 ridge, but had to skip a more demanding corner of it. 2016 Skyrunning UK champion Bjorn Verduijn (NER) set the early pace, with Andy Bryce (GBR) and Andy Berry (GBR), who recorded the second-fastest-ever winter Bob Graham Round this January, in pursuit. In the women's race, Lauren Woodwiss (GBR) created an early advantage on pre-race favourites Catherine Slater (GBR) and Jacqueline Toal (IRL). The first half of the course includes around two-thirds of the 4,500m of ascent and the majority of the technical ridge running, with the second half being faster, more runnable terrain. Though the weather eased for a while, there were reports of "20km of horizontal rain" from some runners There were plenty of tired but happy faces at Patterdale, the main check point, where runners enjoyed soup, energy balls from Keswick's Fellpack and Mr Duffins coffee. After a quick transition at Patterdale, third-placed Berry started to close the gap on the lead two, finally passing Verduijn, who had led the race for seven hours, and arriving first back in Ambleside in 8:34:24. "That was good fun" said Berry. "The weather was pretty full on at times. I feel sorry for the people up there all day. But it was fun!" Verduijn was second in 8:40:00. Bryce third in 8:59:56. Similarly in the women's race, Slater caught Woodwiss, and finished in 10:30:27. "I'm knackered," said a breathless Slater at the finish line. "In a weird way, I thoroughly enjoyed that!" Helm Hill runner Slater works as a physiotherapist in Staveley. The race awarded prize money, as well as prizes from race sponsors Salewa, Leki and Mountain fuel. The LSU returns in 2018.
The inaugural Scafell Sky Race, a 40km, 2,800m route from Seathwaite to Ambleside, takes place on Sunday 16 July. Like LSU, it's owned and organised by Mountain Run Events and designed as an introduction to skyrunning. Unlike LSU, entries are not vetted. More information at www.lakesskyultra.uk/scafell-sky-race-40km-2700m.
More images are available on request.
All images to be credited to Guillem Casanova / guillemcasanova.com
– all ends –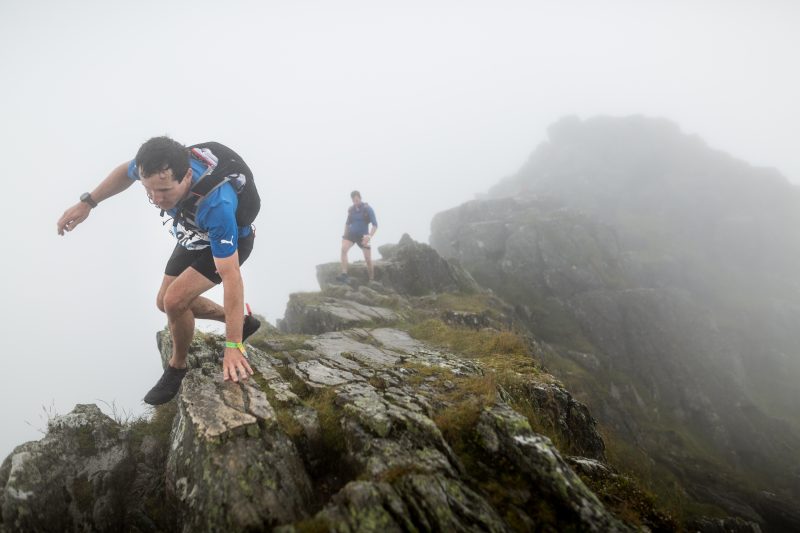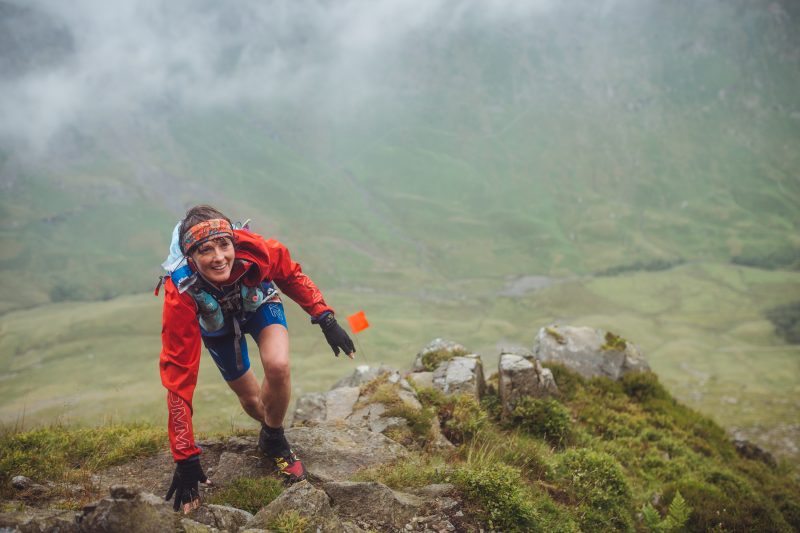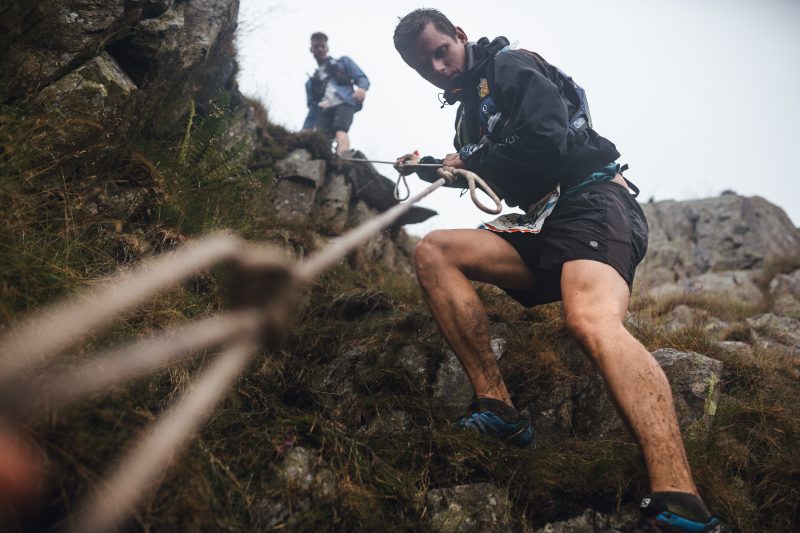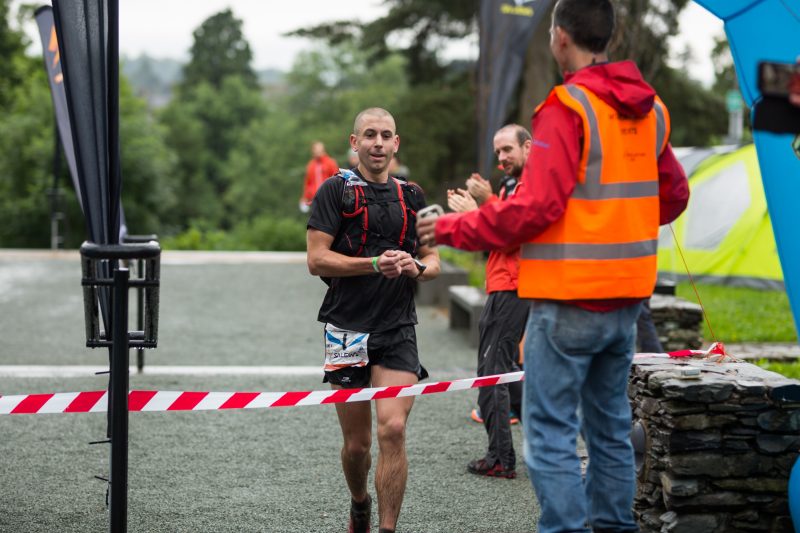 ______________________________________________________________________
Press Release for the Lakes Sky Ultra 2016
// Headline// Skyrunning™ history made in the English Lake District
//Main Content//
Skyrunning™ fully unfolded in the English Lake District last weekend on Saturday the 23rd with the 2nd year of the Lakes Sky Ultra™, the second race in Skyrunning™ UK's National Series. Planned and executed by the local running guide, Charlie Sproson from Glenridding, who heads up Mountain Run the company that organized it.
An extremely technical course with 56km of trails and fell with 4500m of ascent alone, included roped sections through Eagle Crag and Pinnacle Ridge in the Grisedale valley which added a truly 'European' feel, as though 'Via Feratta' had hit the Lakes outside of Honister Slate Mines!
An extremely strong British field of mountain runners toed the start line alongside a few European runners who had been lured away from the Skyrunning™World Championshipsheld by the ISF (International Skyrunning Federation) in Spain for this epic and extreme mountain race.
//Strap Line// Records were smashed and reset!
//Content//
In the men's race Donnie Campbell, from Scotland, continued his winning streak to take another record after already smashing the Highland Fling and Keswick Mountain Festival 50km Ultra Trail earlier in the year, the latter incidentally which is planned by Mountain Run. The 2nd and 3 places fell to a local Ambleside runner Neil Talbolt and Ally Beaven from the Scottish Highlands.
In the ladies race, International Mountain Runner, Sarah Ridgway, who holds the record from 2015, came back fitter and faster to set a 'hard to beat' record and smash her own time from the previous year by over 25 minutes and set a new record on the full course, which makes it even more impressive, in a time of 08:39:41, with the 2nd & 3rd places falling to Sophie Grant, who equaled Sarah's record time from 2015 and Katie Bowden who took the 2nd place in the recent V3K in Wales (the 1st racein the UK Skyrunning series this year).
//Background information// Skyrunning™ is a race format from Europe where the organisers set marked courses, some times over extremely technical terrain, sometimes not, for racers to test their strengths and fitness as runners and mountaineers over a level playing field where navigation is not the order of the day, allowing the fitness and agility of the runner to be the controlling factor.
The Lakes Sky Ultra addresses the true routes of the sport, merging extremely technical terrain with great runnable trails. The whole course is marked and the planner have merged UK fell running with British mountaineering tobring Skyrunning™ in its purest form to the UK by adding fixed lines on the technical rock scrambling sections, to aid the runners.
//Content// The weather showed the Lake District for all the beauty it has and the runners set off at 07:00 from the Ambleside Campus of the University of Cumbria with a little atmospheric cloud that soon burnt off, to leave high cloud cover in place and perfect running conditions. The runners battled it out over the 56km roller coaster course that takes in some of the most iconic mountains, ridges and scrambles the Lakes has to offer. This includes the Fairfield and Helvellyn Ranges, Swirral and Striding Edges, the steepest fell ascent in the Lakes, according to Alfred Wainwright, on the ascent to Pinnacle Ridge, which lures mountaineers to enjoy one of the most classic rock scrambles in the Lakes. In the second and less technical part of the course the runners are treated to runnable trail, if they still have the legs for it, to visit the remote Haweswater and Small Water valley's and then traces a line around the head of Kentmere across the Kirkstone Pass fells to finally ascend Red Screes to incorporate 2 'KOM super stages' for the ascent to the summit and the descent to the finish.
The race is headline sponsored by the Italian mountain clothing and equipment company, Salewa, and supported by Leki UK and the pretty local Team Nutrition with their electrolyte hydration brand, Pura Perform, who are based in Yeland Redmayne.
________________________________________________________________________________
Note to Editors:
The Lakes Sky Ultra is created and planned by the local mountain running guide Charles Sproson and his wife Nicola who both run mountain based coaching companies, Mountain Run and Nics Nordic Walks, from their house based at the head of the Glenridding Valley at Greenside Mines.
Lakes Sky Ultra is part of Skyrunning UK's National Series.
Next years date will be the 14th,15th and 16th July 2017. The format and course will remain the same and more races will be introduced to add a more inclusive and family feel.
The copyright for all images is retained by Skyrunning™ UK
All images must be credited to the following:
Steve Ashworth ©LakeDistrictImages
The following images bank is supplied by Lake District Images by Steve Ashworth, a local image and film producer, with a great credibility in mountain based sports.
http://lakesphoto.photoshelter.com/gallery/Lakes-Sky-Ultra-Low-Res/G0000AnzG1Uc7_jY
The images are 'low res' for web use and 'high res' versions are available for print.
Images may be use free for up to a 'half magazine' size. If images larger than this are required then Steve Ashworth must be contacted for a price to purchase the image.
Steve's contact details: stephen_ashworth@hotmail.com
Lakes Sky Ultra details:
Facebook: LakesSkyUltra
Twitter: @ LakesSkyUltra
Email: enquiries@lakesskyultra.uk
The Lakes Sky Ultra is created and executed by Charles and Nicola Sproson from Glenridding, Cumbria.
Charlie: 07989 697487