The UTMB Index provides the performance level of each runner.
What is the UTMB Index?
Assessing the performance level of each trail runner, the UTMB Index is calculated for each of the 4 UTMB World Series race categories: 20K,50K,100k and 100M. Trail runners are also given a General UTMB Index calculated by combining results from all race categories.
A valid UTMB Index is mandatory to enter the UTMB Mont-Blanc lottery.
How do I get a valid UTMB Index?
A valid UTMB Index is achieved by completing at least one race of the UTMB World Series or a UTMB Index race in the relevant category within the previous 24 months. Once a race category has at least 1 valid result, all races from the past 36 months will be used to calculate your UTMB Index.
To enter the UTMB Mont-Blanc lottery for the race of your choice, you must have a valid UTMB Index as per the chart.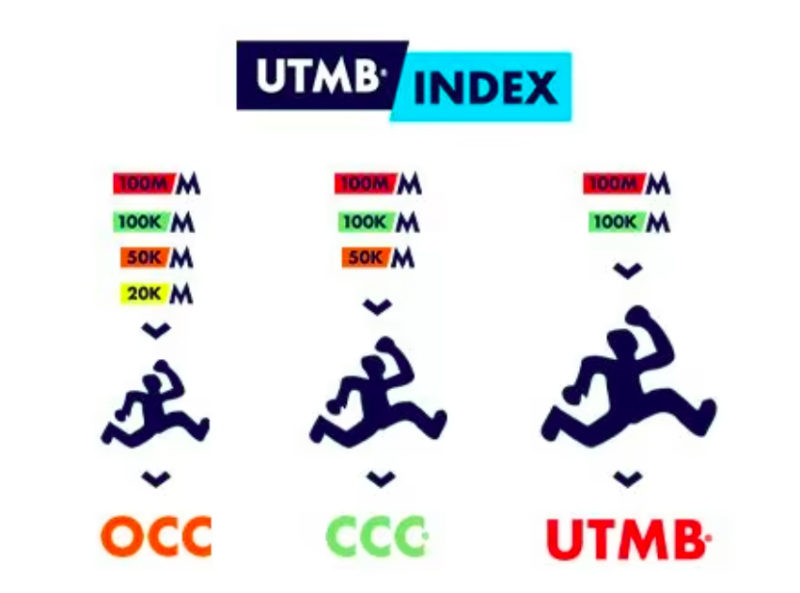 What is a UTMB Index race?
A UTMB Index race contributes towards every Finishers UTMB Index in the corresponding category (20K, 50K, 100K or 100M) and gives privileged access to the UTMB World Series Events or Majors*. The privileged access corresponds to:
Exclusive pre-sales period
Early bird prices secured
Access to races on a first come first served basis
*Excluding sold-out races where a draw will be organized. In the event of a draw, subscription will be exclusive to UTMB Index holders.
What does the UTMB Index Points and Ranking have to do with LDST Sky Races?
UTMB INDEX RACES
Finishing a UTMB Index race will contribute towards your UTMB Index. However, it will not provide Running Stones which are mandatory to enter the UTMB Mont-Blanc lottery for the World Series Finals.

We have 2 races with UTMB Index Points:
The Rab Scafell Sky Race, date: 3rd June 2023
The Rab Helvellyn Sky Ultra, date: 15th July 2023
Taking part in either the Rab Scafell Sky Race or Rab Helvellyn Sky Ultra 2023 will contribute to your UTMB index, very much the same as Skyrunning ranking points, these will allow you to measure yourself against other runners in the ranking, giving you an understanding of where you are performing in the world of trail running and whether you think a certain race is good for you.
It also allows you to take part in the ballot for the UTMB Mont-Blanc in Chamonix, which is the pinnacle race of the trail running season.
If you do not have a UTMB Index, then you will not get the chance to enter the UTMB Mont Blanc ballot and never get the chance to race in the iconic UTMB.
UTMB Index Points also allow you to enter a 'Race by UTMB' without the need to wait in a queue unless the race is sold out. The points will also allow you to enter a 'Race by UTMB' before the race entries open to the rest of the running world.
Each of our less technical sky races, being the Rab SSR and Rab HSU, carry the chance to influence your UTMB Index Points and therefore give you access to the ballot for the UTMB Mont-Blanc