Great to see such a large field for the Stickle Grind Vertical 650 Uphill race this year, after only 4 attendants for 2018 with a flooded valley.
For 2019 the sun shone, the leaves blew off the trees creating a very Autumnal feel and both George Foster and Lucy Stobbart ran strong to both take 1st place respectively. George was quoted saying on the start line, "my legs feel trashed from the Fell Relay's yesterday", but still he put in a great performance and won the race out-right very comfortably. Lucy was quoted saying, "I'm not so good on the rough stuff", yet she made light work of the upper part of the ascent of Harrison Stickle to win the Ladies race and took 10th Place Overall.
The 38 runners were set off in 30 second increments to race to the summit of Harrison Stickle via Stickle Ghyll and Stickle Tarn, meaning the uphill racers have the chance to 'chase' each other down.
Our very own, Nicola Sproson [LDST Organising Team], took the 1st place in the FV40 category.
Prizes were kindly donated by local fell runner, Rupert Bonington of Mountain Fuel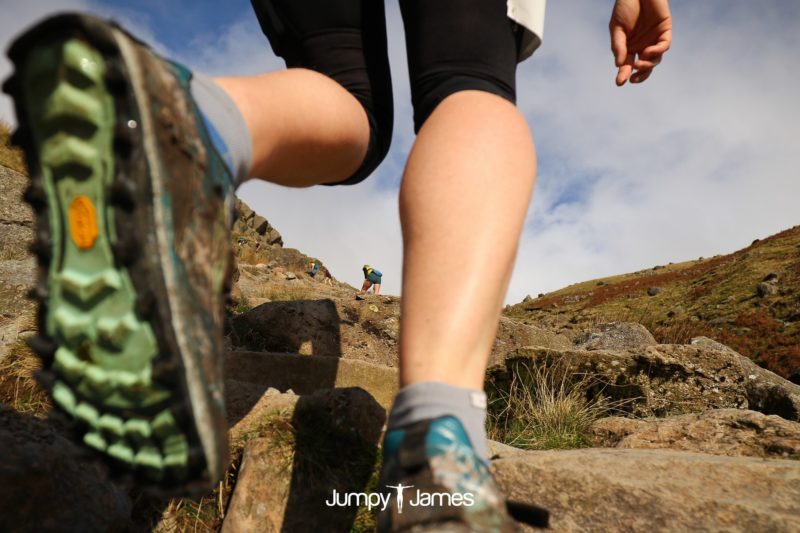 | Position | Name/Category | Time | Race Number |
| --- | --- | --- | --- |
| 1st | George Foster/M Open | 24:48 | 8 |
| 2nd | Chris Jackson | 28:21 | 16 |
| 3rd | Pete Harrison | 28:29 | 12 |
| 4th | Georgios Dalakour | 28:56 | 5 |
| 5th | Will Sisson | 29:52 | 39 |
| 6th | Isaac Ravenhill | 30:52 | 47 |
| 7th | Alex Roberts | 30:57 | 33 |
| 8th | Tim Pickering | 30:58 | 30 |
| 9th/1st MV50 | Stewart McDonald/MV50 | 31:59 | 19 |
| 1st Female/10th Overall | Lucy Stobbart | 32:57 | 41 |
| 11th | Andy Holden | 34:48 | 14 |
| 12th/1st MV40 | Robert Hurcomb/MV40 | 35:04 | 48 |
| 13th | Stephen Fisher | 37:09 | 49 |
| 14th | Paul MacFarlane | 37:20 | 20 |
| 2nd Female/15th Overall | Marie Robson | 37:27 | 35 |
| 16th | Dean Ridgeway | 37:31 | 32 |
| 17th | Samuel Pegler | 37:33 | 29 |
| 3rd Female/18th Overall | Lindsay Buck/FV50 | 37:46 | 4 |
| 19th/1st FV40 | Nicola Sproson/FV40 | 38:04 | 46 |
| 20th | Ian Povey | 38:10 | 31 |
| 21st | Amyleigh Moore | 39:15 | 24 |
| 22nd | Peter Rowe MV40 | 39:56 | 36 |
| 23rd | Aleks Kashefi | 40:00 | 17 |
| 24th | Katie Trace/FV40 | 40:04 | 43 |
| 25th | Duncan Marsh | 40:05 | 22 |
| 26th/1st FV60 | Lesley Malarkey/FV60 | 41:30 | 21 |
| 27th | Rebecca North | 42:38 | 27 |
| 28th | Rebecca Atkinson | 43:16 | 03 |
| 29th | Julie McNicholas | 44:27 | 23 |
| 30th | Stephen Durkin | 47:56 | 06 |
| 31st | Stephan Shakleton | 51:03 | 37 |
| 32nd | Laura Spenceley | 51:18 | 45 |
| 33rd | Sarah Holister | 51:23 | 15 |
| 34th | Lucy Stephenson | 52:19 | 40 |
| 35th | Becky Haft | 53:37 | 10 |
| 36th | Dave Granger | 53:55 | 09 |
| 37th | Noel Cheseldine | 54:26 | 44 |
| 38th | Ross Robertson | 56:01 | 34 |