Saturday started with clear skies and the sun shining on a very autumnal day in the valley of Great Langdale for a re-vamped version of the Langdale 10km Trail Race.
With last years 'wash out' it was great to see 112 runners enter the race with 94 people racing on the day.
Strong performances all round, by all those that attended, with the field spanning 6 generations with the youngest being Josh Peevor [16], who took the 7th place and the oldest Brian Winder [MV70 1st Place] who put in a strong performance to finish in 77th place.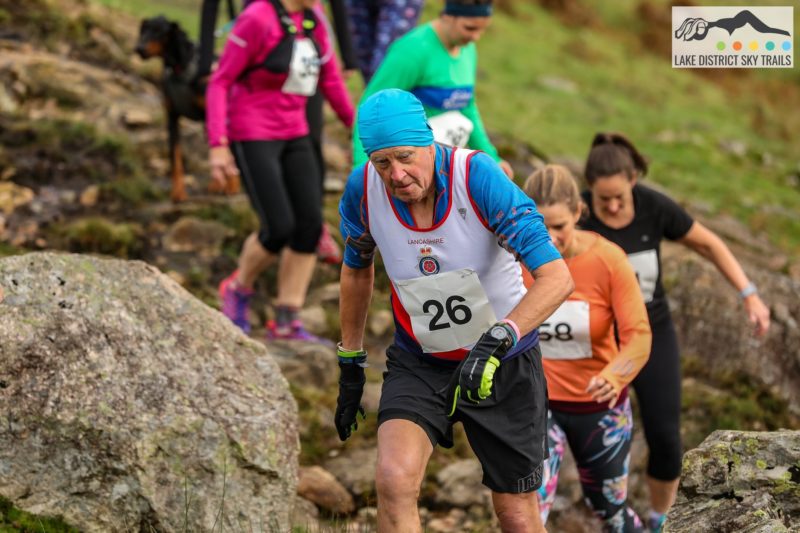 Bruce Hardy took the win in the end after a battle with Ben Brough who kept the pressure on all the way round, closing the gap in the final stages of the race, but not managing to catch Bruce. Daniel Owen's ran a strong race to finish in 3rd.
Robin Hill, of Chesters by the River, was tickled pink to take the 1st place in the MV60 category, as it was his birthday on that day, Happy Birthday Robin!
Catlin Richardson pushed hard to stay 19 second's in front of the Ladies 2nd place to take the win in a time of 00:53:40 and placed 12th overall, with Elizabeth Earle taking 2nd place in 00:53:59 finishing in 14th place overall, Lyn Thompson putting in a superb performance [racing in the FV60 category] finishing the ladies top trio and taking 3rd place in a cracking time of 00:54:31 and finishing in 18th place overall.
Many other star performances happened during the race.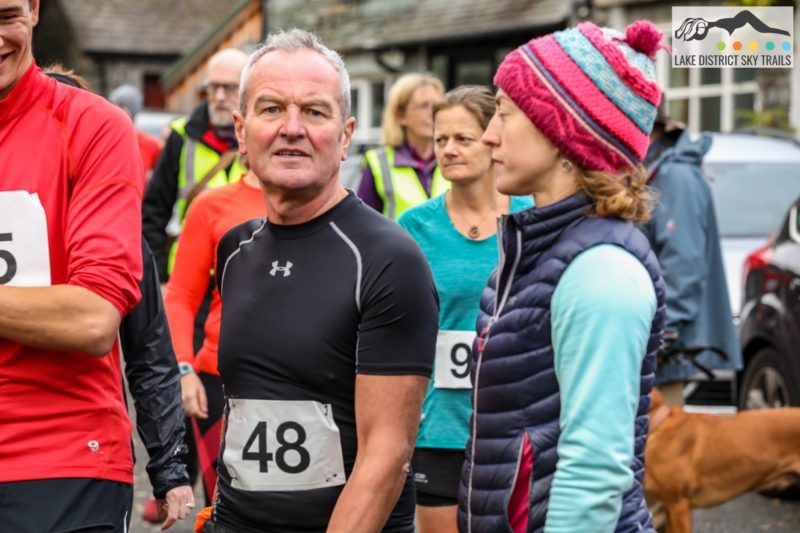 Images by Wildman Media available to download BELOW:
Prizes were kindly awarded by the National Trusts Stickle Barn.
| Position | Name/Gender/Class | Time | Race Number |
| --- | --- | --- | --- |
| 1 | Bruce Hardy/MV40 | 00:43:03 | 43 |
| 2 | Ben Brough/M | 00:43:40 | 15 |
| 3 | Daniel Owens/M | 00:46:03 | 74 |
| 4 | Andrew Ross/M | 00:48:34 | 93 |
| 5 | Sean Rickard/M | 00:49:06 | 85 |
| 6 | Duncan Read/M | 00:50:54 | 82 |
| 7 | Josh Peevor/M | 00:51:40 | 76 |
| 8/1st MV40 | Michael Robinson/MV40 | 00:52:02 | 90 |
| 9 | Fraser Lacey/M | 00:52:14 | 53 |
| 10 | Josh Phipps/M | 00:52:34 | 78 |
| 11/1st MV60 | Robin Hill/MV60 | 00:53:00 | 48 |
| 1st Lady/12 Overall | Catlin Richardson/F | 00:53:40 | 84 |
| 13 | Richard Greaves/MV40 | 00:53:51 | 40 |
| 2nd Lady/14 Overall | Elizabeth Earle/FV40 | 00:53:59 | 34 |
| 15 | David Maliphant/M | 00:54:09 | 62 |
| 16/1st MV50 | Matthew Barnes/MV50 | 00:54:14 | 05 |
| 17 | Paul Shannon/M | 00:54:22 | 95 |
| 3rd Lady/18 Overall | Lyn Thompson/FV60 | 00:54:31 | 104 |
| 19/Ladies 1st FV50 | Kim Bluck/FV50 | 00:55:12 | 12 |
| 20 | Rob Mcclynont/M | 00:55:21 | 65 |
| 21/Ladies 1st FV60 | Jo Haigh/FV60 | 00:55:59 | 41 |
| 22 | Elizabeth Adams/F | 00:56:11 | 01 |
| 23 | Charlie Pinkney/FV50 | 00:56:15 | 79 |
| 24 | Pete Smith/MV50 | 00:56:30 | 100 |
| 25/Ladies 1st FV40 | Sarah Moir/FV40 | 00:57:50 | 69 |
| 26 | Jamie Beecham/M | 00:58:44 | 09 |
| 27 | Simon Barton/MV60 | 00:59:13 | 07 |
| 28 | Andrew Johannesen/M | 00:59:15 | 50 |
| 29 | Holly Gordon/F | 00:59:18 | 37 |
| 30 | Nigel Braithwaite/MV40 | 00:59:30 | 14 |
| 31 | Greg Burkitt/MV50 | 00:59:41 | 16 |
| 32 | Carrie Stephenson/F | 00:59:45 | 102 |
| 33 | Pip Conlon/F | 01:00:56 | 24 |
| 34 | Charlotte Dean/F | 01:00:57 | 31 |
| 35 | Georgios Dalakouras/M | 01:00:58 | 29 |
| 36 | Sam Stalker/M | 01:01:01 | 101 |
| 37 | Sam Darley/M | 01:02:05 | 30 |
| 38 | Ivan Catlow/MV40 | 01:02:07 | 18 |
| 39 | Jessica Amrishaw/FV40 | 01:02:10 | 02 |
| 40 | Michael Burkitt/MV50 | 01:02:16 | 17 |
| 41 | Andrew Hewitson/MV50 | 01:02:45 | 46 |
| 42 | Shaun McMullen/MV50 | 01:02:56 | 66 |
| 43 | Rhiannon Robinson/FV50 | 01:03:40 | 91 |
| 44 | Helen Hall/FV40 | 01:04:10 | 42 |
| 45 | Valerie O'Donnell/FV50 | 01:04:19 | 73 |
| 46 | Richard Peevor/MV40 | 01:04:43 | 77 |
| 47 | Julie McNicholas/FV50 | 01:04:58 | 67 |
| 48 | Jennifer Lake/F | 01:05:20 | 11 |
| 49 | Andrew Kelly/MV40 | 01:05:22 | 51 |
| 50 | Dave Granger/MV40 | 01:05:38 | 39 |
| 51 | Clare Smith/F | 01:05:43 | 99 |
| 52 | Ross Robertson/M | 01:06:12 | 89 |
| 53 | Karen Houldsworth/FV50 | 01:06:26 | 49 |
| 54 | Ewan Turnbull/MV40 | 01:06:27 | 106 |
| 55 | Peter Cheung/MV60 | 01:07:41 | 19 |
| 56 | Bridget Slater/MV50 | 01:08:35 | 98 |
| 57 | S Durkin/MV50 | 01:08:54 | 33 |
| 58 | Jayne Wilkinson/F | 01:09:51 | 110 |
| 59 = | Deborah Clarke/FV40 | 01:10:01 | 21 |
| 59 = | Andrew Clarke/MV50 | 01:10:01 | 20 |
| 61 | Hannah Latimer/F | 01:10:02 | 54 |
| 62 | Peta Rowand/FV40 | 01:10:57 | 94 |
| 63 | Phil Corris/MV60 | 01:10:58 | 26 |
| 64 | Helen Porter/FV60 | 01:13:17 | 80 |
| 65 | Alex Magell/MV40 | 01:14:02 | 60 |
| 66 | Helen Magell/FV40 | 01:14:03 | 61 |
| 67 | Victoria Cunningham/F | 01:14:26 | 28 |
| 68 | Marina Quayle/FV50 | 01:14:38 | 81 |
| 69 | Jon Merritt/MV60 | 01:14:39 | 68 |
| 70 | Nicola Latimer/FV50 | 01:14:46 | 55 |
| 71 | David Wilkins/MV50 | 01:14:50 | 109 |
| 72 | Barbara Bath/FV50 | 01:15:30 | 08 |
| 73 | Marian Elden/FV50 | 01:15:49 | 35 |
| 74 | Joanne Murphy/FV50 | 01:16:00 | 72 |
| 75 | Jemma Lumley/F | 01:16:41 | 58 |
| 76 | Helen Bowerman/FV50 | 01:17:02 | 13 |
| 77/1st MV70 | Brian Winder/MV70 | 01:17:07 | 111 |
| 78 | Bethany Parr/F | 01:17:32 | 75 |
| 79 | Helen Graham/F | 01:18:44 | 38 |
| 80 | Di Knowles/FV50 | 01:18:45 | 52 |
| 81 | Kerry Morton/FV40 | 01:19:54 | 71 |
| 82 | Andrea Roberts/FV40 | 01:21:45 | 87 |
| 83 | Heidi Martin/F | 01:22:18 | 63 |
| 84 | Chris Atkinson/FV50 | 01:22:32 | 04 |
| 85 | Nicki Roberts/F | 01:24:12 | 88 |
| 86 | Ann Sharpe/FV60 | 01:24:13 | 96 |
| 87 | David Sharpe/MV60 | 01:24:14 | 97 |
| 88 | Pip Riley/FV40 | 01:24:15 | 86 |
| 89 | Claire Bescoby/FV40 | 01:24:16 | 10 |
| 90 | Gill Morgan/FV50 | 01:25:39 | 70 |
| 91 | Jerome Duncan/M | 01:27:25 | 32 |
| 92 | Sian Gilgeous/F | 01:28:19 | 36 |
| 93 | Jennifer Stephenson/F | 01:28:20 | 103 |
| 94 | Claire Witham/F | 01:38:32 | 112 |