Prime say: PRIME means "of the best possible quality" and that is why we use 100% grass-fed British beef. We do not compromise. Luke's family have been in the butchery business for generations, having worked with the farmers for 20 years. Therefore, the beef is 100% traceable coming from a small group of family run British farms that we know and trust.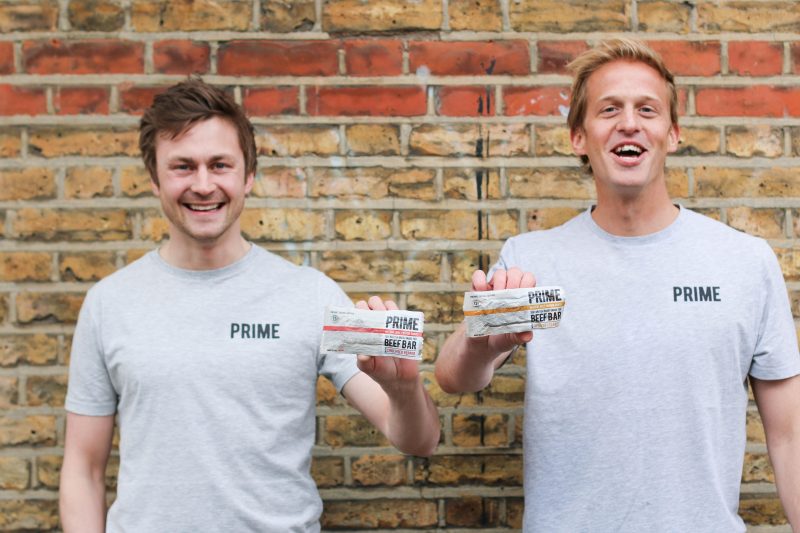 Benefits and reasons to use Prime Bars:
- PRIME is a savoury, natural alternative to all the high sugar and very processed protein bars on the market
- PRIME was started by two ultra runners who found that it was difficult to get a protein hit without having to compromise on ingredients
- The supply chain has 100% transparency the bars are made with 100% grass fed beef from farms that they know and trust
THEIR STORY
Born out of a passion for adventure and food:
Fred and Luke are old friends who have pushed each other around the world in the exhilarating search for adventure. For both of them, it is the world of ultra-marathons that has proved to be their ultimate passion. They thrive off challenging new trails, having competed in the most extreme events up mountains, through jungles and across deserts.
Solving a problem:
Like so many athletes, Fred and Luke found many sports nutrition products a source of constant frustration. So often processed and high in sugar they became concerned about the possibilities of long term damage the snacks could have. They wanted functional food made of real ingredients. As Luke's family has been in the butchery business for generations, they started making packs of homemade biltong, dried fruit and nuts to energise them when they needed it most.
Creating a snack they're proud of:
Realising the quality and taste of their combinations, they sought to try and make something in a more convenient format that could be taken on long trips as a source of energy and protein. They engaged the help of one of the UK's top food development chefs to look at how they could combine ingredients and develop the ultimate flavoursome snack bar. They used only whole ingredients and sourced the best grass-fed beef from organic farms. Time and hard work allowed them to perfect the slow cooking and drying technique that delivers an incredible taste in the PRIME Bar.
Their challenge to you:
The iconic image of Mont Blanc represents the challenge Fred and Luke have set themselves; to complete the Ultra-Trail du Mont Blanc in 2018. Regarded as one of the world's toughest ultra-running races, it's a gruelling nonstop 170km race encompassing an astronomic 10,000 meters of ascent. By putting the fearsome image of the mountain on their packaging the boys want to inspire people to go and claim their own peak. So get outside and push yourself beyond all limits you've set yourself!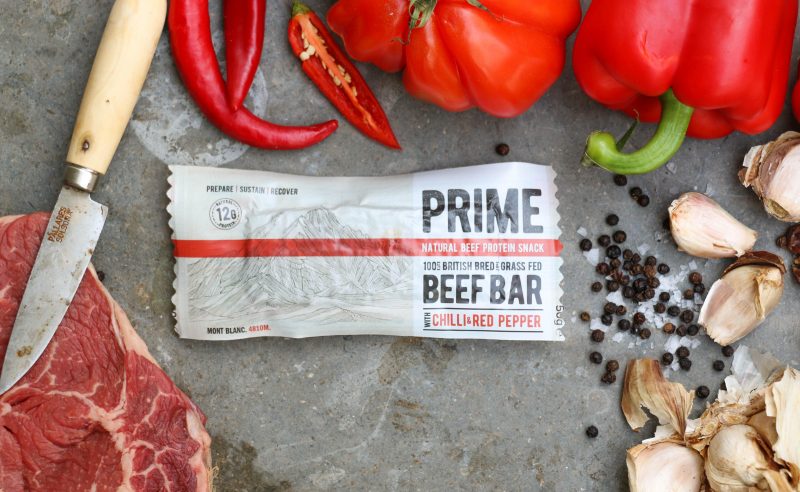 Lake District Sky Trails say: We learnt about this product last year at the epic Love Trails Festival in Dorset and thought it was the perfect product for meat eaters at the race weekend we have planned. Going long and hard means you need good protein and carbs balance and you need good quality ingredients.
The boys at Prime are passionate about what they are doing and pack these bars with healthy and traceable ingredients.
We're really looking forward to handing out the bars to our competitors and know first hand how tasty and nutritious they are. Our RD, Charlie, was using them on his recent Charlie Ramsay round in 2017 with Damian Hall, which they completed on-sight in 23:15.