The True Mountain Lakes Sky Ultra 2015 official film.
Reviews and Feedback:
Eirik Haugsnes, Tromso Sky Race winner 2014 (6th 2015) 'It was brutal, maybe even tougher than Tromso but that is possibly due to such harsh conditions for the race. But the repeated climbing and technical aspects make this a must-do race for those who are brave enough.' - Male Open winner, LSU 2015
Gareth Hughes, V3K Sky Race winner 2015, 'Quite easily the hardest race I've done so far, an audacious undertaking for the race organisers. Classic fell running combined with technical ridgelines made for a daring concept when faced with severe rain and gales on the day. As a climber I felt at ease on Swirling Edge and Striding Edge and felt the greatest challenge had to be the technical descents such as that off Nethermost Pike, with the added thrill of river crossings and steep grassy slopes that could only be ascended with large clumps of grass in hand it made for a truly unique experience' - 2nd place in Male Open, LSU 2015
Jim Mann, Dragon's Back Race winner 2015, 'This course has it all, steep climbs, fun scrambling ridges, technical terrain and fast runnable descents - I will be back for sure' - 3rd place in Male Open & winner of both 'super stages', LSU 2105
Paul Tierney, Lakes 100 winner 2015, commenting on the removal of Pinnacle Ridge, 'If it had been left in I would have done it but I am not sure I would have been too happy about it. It amounts to a couple of minutes in a 7-hour plus race. Let's be clear, this course was brutal with or without Pinnacle Ridge.' - 4th place in Male Open, LSU 2015
Sarah Ridgeway, Ladies Snowdon Horseshoe record holder & V3K Sky Race winner 2015, 'A race that lures you in then spits you out. You have to look deep into yourself to just finish! The initial gentle climb lulled me into a false sense of security. I was in my element encased in cloud and lashed by driving rain... then the course really showed it's teeth! The scrambling proved a welcome distraction from what really made it so tough: the merging of traditional fell running terrain. Tussock, bog, and steep vegetated climbs that could only be attacked on all fours. Your fight almost exhausts but you reach the aid station at half-way and the atmosphere, support and coffee enliven you to battle on to finally be rewarded with, dare I say, a kind descent to the finish. I'll not forget this race - the hardest in the UK Sky Running calendar so far and a fantastic experience!' - 1st place in Ladies Open, LSU 2015
Beth Pascal, 1st Lady in Montane Spine Race 2015, 2nd Lady in Dragon's Back Race 2015, 'The toughest 34 miles I have ever run' (I'm being serious) - 2nd place in Ladies Open, LSU 2015
Scott White, 'Thanks again for organising such a great race! Apart from the spectacular route, I loved the feel of it having such a small number of hard-core runners, and hope that it will maintain this even though it will undoubtedly become more popular. In particular, I'm extremely glad that you were able to keep it to the (almost) full course despite the weather' - 25th place in Male Open, LSU 2015
David Beech, 'Amazing event, you all should be very proud. Gutted I was ill and just had to get round it, can't wait for next year..... it must of been a huge task collecting those markers, my upmost respect to you both and your team.' - 23rd place in Male Open, LSU 2015
Louise Staples, 'Just to say a big thank you for great race on Saturday, really enjoyed it, especially all the climbing. The weather was miserable! I didnt have a very good race, sorry for being so slow but was on the verge of feeling sick for quite along time in the middle of the race. Anyway the coke saved me and I had a great climb up red screes.' 5th place in Female Open, LSU 2015
Mike Robinson, 1st Male Vet & 5th place overall LSU 2015, 'First of all thanks for staging such a fantastic event and having the courage to sticking with the full course with the conditions thrown at us. Many other organisers would have bottled it and opted for the short course. The route was tough and challenging, well thought out and not at all contrived. You made the right decision about missing out Pinnacle Ridge, it didn't detract from the race and it wasn't worth the risk. It was a great surprise to receive the prize, it's a great looking jacket and I'm very grateful. Good luck with future events.
News articles:
Pre-Race: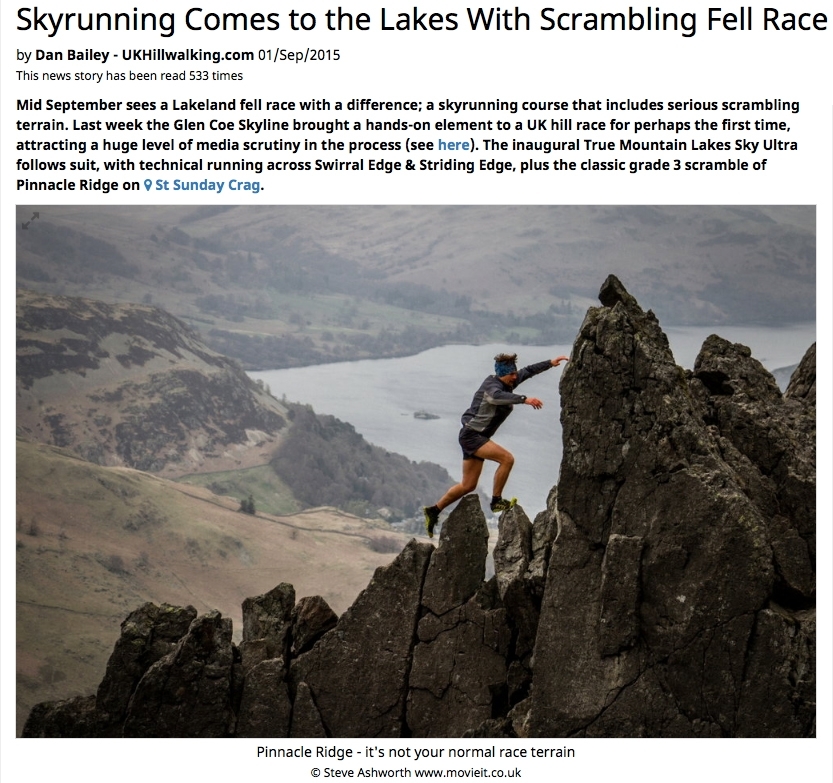 http://www.grough.co.uk/magazine/2015/08/30/bring-...- Bring your Cow Bells!

http://www.run247.com/articles/article-6686-skyrun... - SkyRunning™ comes to the Lake District with the True Mountain™ Lakes Sky Ultra™
Post-Race:

http://www.thewestmorlandgazette.co.uk/sport/13763... - Wind batters racers at inaugural True Mountain Lakes Sky Ultra

http://www.runultra.co.uk/Articles/September-2015/... - the wind came through in gusts making three points of contact essential at times

http://www.run247.com/articles/article-6720-sky-ru... - Race report: True Mountain Lakes Sky Ultra - September 12, 2015

http://www.grough.co.uk/magazine/2015/09/15/rain-a...- Rain lashes the Lakes

TV Interviews: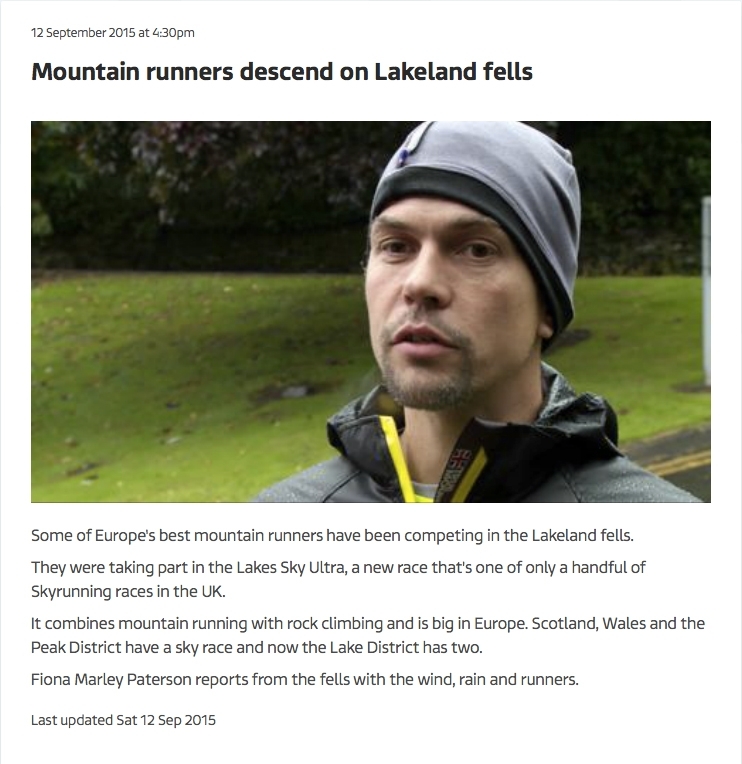 Reviews about the race:
http://www.runultra.co.uk/Events/Lakes-Sky-Ultra

Blog posts & Film's by competitors:
http://www.fellicionado.com/2015/09/lakes-sky-ultr...'Ran this lil'puppy the other day. Felt like flailing about inside a washing machine for 8 hours. Wildest weather I've run in for a long time but, every cloud and all that jazz, at least that meant the ridges were uncongested.' - George Foster
Film by RedLineTeam
Blog post by Eirik Haugsnes, Male Open (overall) winner 2015 - Inov8 Sponsored athlete
http://team.inov-8.com/from-family-man-to-lakes-sk... - 'This weekends' Lakes Sky Ultra turned out to be a real challenge for us runners. Not only does the race have shark teeth like profile as you can see from the picture below, but it also has a couple of tough technical parts with some rough terrain, ridges and a bit of scrambling.'
Blog post by Hetty Key, Viewranger Ambassador
http://www.mudchalkandgears.com/lakes-sky-ultra-ra... - 'Standing at the start line felt epic! Slight dread, adrenaline, excitement, fear – it all went through me.'
Facebook and Twitter: