Ambleside, Lake District National Park, Cumbria; Monday, 17 July, 2017:
The Scafell Sky Race (SSR) brought an international field to the Lake District for the inaugural event. Runners came from Australia, Italy, Sweden, Ireland, the US and all over Britain for the race from Seathwaite to Ambleside via Scafell Pike.
Like its big brother event, Lakes Sky Ultra (LSU), which took place on Saturday, 16 July, SSR is owned and organised by Glenridding-based Mountain Run Events. But unlike LSU, it's designed as an introduction to technical skyrunning and entries are not vetted. The course, created by Charles Sproson, was designed to showcase the best of the Lakes.
Indeed the race was blessed with glorious sunshine throughout, in stark contrast to the previous day's Lakes Sky Ultra, which took place in challenging, wet and cloudy conditions. At SSR runners left Seathwaite Farm to climb past Sour Milk Gill waterfalls, up the Gillercomb Valley to the summit of Green Gable. Technical singletrack led past the Napes Needle (where rock climbing originated, in the 1880s), then a classic, technical ascent of the highest mountain in England, Scafell Pike, via the Corridor Route. After summiting Great End, crossing a boulder field, and almost summiting Bow Fell, a scree descent led to one the best singletracks in the Lakes. Next was the Climbers Traverse, the Band, beforerunners descended into Great Langdale and a feed station at the legendary Old Dungeon Ghyll. After a hearty climb to Raven Crag, Harrison Stickle, Stickle Tarn were ticked off, before some easier singletrack-running on the northern side of the Great Langdale Valley, with big views over Grasmere and classic Wordsworth country.
The first to arrive at the University of Cumbria's Ambleside Campus was Keswick AC's Tim Campion-Smith (GBR), in a time of 4:55:33. Brennan Townsend (GBR) finished second in 05:26:06, with Lawrence Eccles (GBR) third in 05:26:53. "It was a highly enjoyable route that I found surprisingly technical," said experienced ultra-mountain runner Eccles. "It pushed me passed breaking point, as my legs betrayed me on the final descent off Loughrigg."
In the women's race, Salomon athlete Lucy Bartholomew (AUS), who travelled from Australia for the event, finished first (and fourth overall) in 5:34:05. Catherine Spurden (GBR), also from Keswick AC,pushed her hard all the way, coming in second (and sixth overall) in 05:43:22. Claire Wilshaw (GBR) placed third in 07:06:26.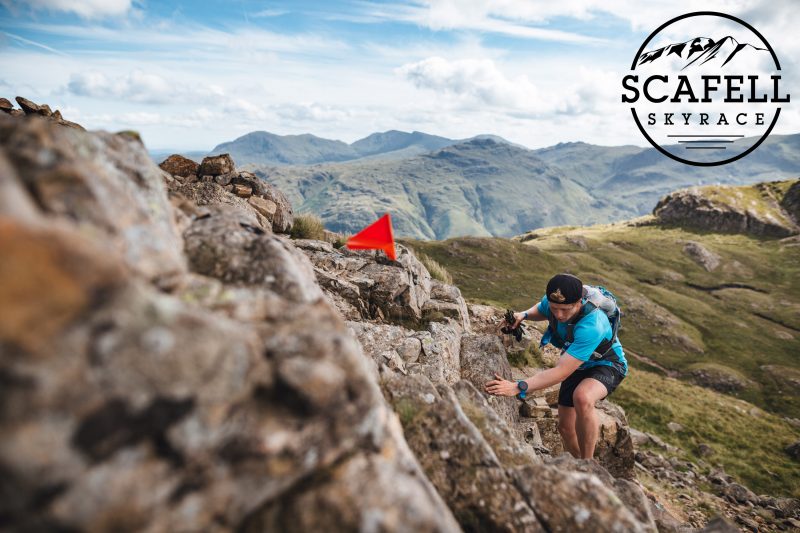 "That was the gnarliest and most technical races I've ever done," said Bartholomew, who placed first at Ultra-Trail Australia (100K) this year, at the finish line. "It was tougher than [notorious Norwegian skyrace] Tromsø.This race should be part of the Skyrunning Extreme Series. I am so proud to have pushed myself outside my comfort zone to win this event! [I'm] in love with this sport the more places I go and the more people I meet!"
At the SSR finish line, many runners commented on what a tough – but enjoyable – experience they'd had. Jennifer Rees-Jenkins (GBR) deserves special mention for being the first person to do a Lakes Sky Ultra-Scafell Sky Race double, running 96km with 7,300m of ascent across both races over the weekend.
SSR awarded prize money, as well as prizes from race sponsors Leki, Mountain fuel and (South African Jewellery company) Miglio.
The SSR returns in 2018. "Along with Saturday's Lakes Sky Ultra, the inaugural Scafell Sky Race was a great success – feedback has been excellent and really gratifying," said Sproson. "We were pleased to be able to show off the Lakes in glorious sunshine and it was exciting to have an international field here. We look forward to growing both events further in the next few years."