Ambleside, Lake District National Park, Cumbria; Sunday, 16 July, 2017: The third Lakes Sky Ultra demonstrated both the international appeal of skyrunning – and the allure of the Lake District – with runners representing South Africa, Australia, New Zealand, Poland, Netherlands, Ireland, France, the US and Belgium arriving in Ambleside. A film crew and several photographers attended the race, one travelling from Spain to do so.
LSU started at 7am, on Saturday 16 July, in challenging conditions for the elect group of runners – 21 of which were female. Drizzle, rain and low, heavy cloud made the technical course slippery on rock, grass and mud.
Race organisers Mountain Run Events faced an additional test when in the morning it was discovered the rope needed to make Pinnacle Ridge safe for runners was missing. Competitors were still able to traverse the exposed, technical, Grade 3 ridge, but had to skip a more demanding corner of it.
2016 Skyrunning UK champion Bjorn Verduijn (NER) set the early pace, with Andy Bryce (GBR) and Andy Berry (GBR), who recorded the second-fastest-ever winter Bob Graham Round this January, in pursuit. In the women's race, Lauren Woodwiss (GBR) created an early advantage on pre-race favourites Catherine Slater (GBR) and Jacqueline Toal (IRL).

The first half of the course includes around two-thirds of the 4,500m of ascent and the majority of the technical ridge running, with the second half being faster, more runnable terrain. Though the weather eased for a while, there were reports of "20km of horizontal rain" from some runners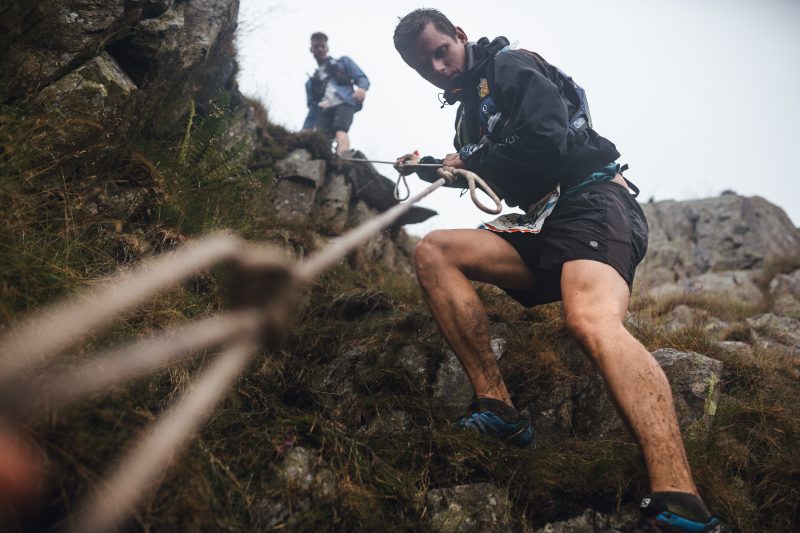 There were plenty of tired but happy faces at Patterdale, the main check point, where runners enjoyed soup, energy balls from Keswick's Fellpack and Mr Duffins coffee. After a quick transition at Patterdale, third-placed Berry started to close the gap on the lead two, finally passing Verduijn, who had led the race for seven hours, and arriving first back in Ambleside in 8:34:24.
"That was good fun" said Berry. "The weather was pretty full on at times. I feel sorry for the people up there all day. But it was fun!" Verduijn was second in 8:40:00. Bryce third in 8:59:56. Similarly in the women's race, Slater caught Woodwiss, and finished in 10:30:27. "I'm knackered," said a breathless Slater at the finish line. "In a weird way, I thoroughly enjoyed that!" Helm Hill runner Slater works as a physiotherapist in Staveley. The race awarded prize money, as well as prizes from race sponsors Salewa, Leki and Mountain fuel. The LSU returns in 2018.