We are delighted to be offering this unique 'vertical race' in partnership with the National Trust.
Entries opening very soon | Price: £10.00 | Location: Stickle Barn | Distance: 2.4km | Ascent: 650m
The Course:
Its short, its simple and its a real beast. Start in the Stickle Barn Carpark and head straight up to Stickle Tarn via the main footpath on the east side of Stickle Ghyll, take a very short scramble on route and then jump the 'stepping stones' to gain the path on the west side of the ghyll. With legs on fire and lungs hanging out, make the final ascent to Stickle Tarn and a quick energy re-supply at the manned drinks station.
Now the onslaught continues; head up a well marked trail to the west of Stickle Tarn to ascend the eastern flanks of Harrison Stickle. Push as hard as you can, as there isn't far to go, follow the flags and signs to hit the rocky summit of Harrison Stickle and the finish.
Follow the same marked route to descend and cheer others on.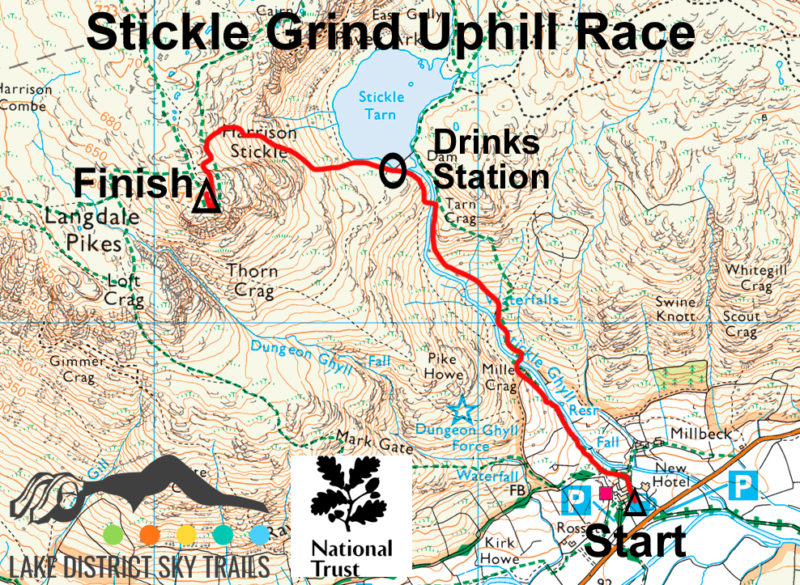 What you get:
2.4km of fully marked uphill trails
Professional Events Team delivering the race
650m lung bursting ascent of Harrison Stickle
Free photo's from the event
Music in the evening and night to chill out and relax to
Key dates and Timings:
Date: 18 October 2020
Registration: 08:30 to 10:15
Race Start: 10:30
First finishers: 11:00
Course closes: 13:00
Mandatory Kit:
Short Sleeve base layer top (NO COTTON)
Shorts or tights (3/4 tights acceptable)
Mountain/Trail running shoes with minimum 3mm tread, e. g. Walsh PB, Salomon Fellraiser, La Sportiva C-lite, Inov-8 X-Talon or Mudclaw.
Safety pins x 4 (or other device for attaching race number)
Waterproof jacket & trousers (taped seams please)
Whistle
Hat or buff
First aid kit (minimum contents: bandage, plasters)
Rules and entry requirements
Please read the following rules and declarations carefully: they are provided for your own safety and information.
Entry requirements
You must be at least 16 years old as of 17 October 2020 to enter Stickle Grind Vertical 650 Race.
Entries are via SI Entries and are not vetted: however, Stickle Grind Vertical 650 is a tough race and we expect you to come prepared. You will be tackling tough and technical terrain, including 650m ascent.
By entering the race, you are attesting your competence to complete the course.
Any competitor found to have deliberately misled the Race Director in this respect will be expelled from the race and all future associated races.
Race rules
Health and wellbeing
You must be confident of your own ability to enter and complete the race.
You must be fit, and in good health on race day.
You must take responsibility for yourself, and fellow racers, during the race. Your ability to exercise Sound Mountain Judgement is vitally important.
Any runner must halt their race to offer help to any fellow competitor who is in trouble or injured. The race directors will reward anyone who does stop to help. Anyone who is found not to have helped a fellow competitor maybe disqualified and barred from entering any future Lake District Sky Trails events.
Your ability to self-rescue in the event of injury is a must.
You must not use earphones on the course, for safety reasons. It is important to be fully aware of your surroundings, wearing earphones does not allow this. Any competitor found running with earphones will risk disqualification.
Safety on the course
You must wear or carry the mandatory kit at all times.
You must follow the countryside code, especially in relation to shutting gates. It is strictly forbidden to climb any walls or fences.
You must stay on the fully way-marked course.
You must follow the race route, as dictated by the Race Director or any race officials or course marshals.
The Race Director reserves the right to cancel the race in extreme circumstances.
Race numbers must not be obscured during the race. Race numbers must be given to marshals on the course. This is an important safety feature. Failure do this will risk disqualification from the race.
Running with dogs
Although we love dogs and run with them as our regular training partners, we regret that running with dogs is not allowed at Stickle Grind Vertical 650.
Competitor declaration
I understand that participation in Stickle Grind Vertical 650 is a potentially dangerous activity, involving varied risks and accept all responsibilities associated with the race, including, but not limited to weather and its effects on individuals, ground condition, injury, loss, death, intense cold or heat conditions (such as hyperthermia, hyperglycaemia).
By entering this event, I agree that I will only take part on the day if I am in good health and will have undertaken adequate training for the distance that I am running. I understand that the organisers will take reasonable steps to promote my safety and that I must comply with all instructions given by the race organisers and marshals. I understand that Lake District Sky Trails reserve the right to cancel my entry, should it be deemed by Lake District Sky Trails or their medical representative that I am not fit and healthy enough to participate or to continue in the event.
I confirm that my fitness and experience is appropriate to the race. I understand that, should it be deemed by Lake District Sky Trails that this is not the case OR if I have overstated or misrepresented my experience at the time of entering the race, Lake District Sky Trails reserve the right to cancel my entry.
I confirm that I can exercise SOUND MOUNTAIN JUDGEMENT, making personal decisions to protect my own safety when confronted with adverse weather conditions. I confirm that I can and will mitigate my own risks by being fully prepared to take part in Stickle Grind Vertical 650.
I confirm that I will not push myself beyond the bounds of sensibility, and retire from the race, if necessary, at the earliest possible opportunity, so as not to put other people in harm's way. I know my own limitations and will endeavour to avoid putting any other person at risk through my actions.
I confirm that I can competently follow a way-marked course.
I confirm that if I retire from the race, at any stage, or for any reason, be it injury, fatigue or some other reason, then I will report immediately, or as soon as reasonably possible, my retirement to a race marshal, and upon returning to the event centre, I shall report my retirement to the Race Director.
I confirm, and allow, the race organisers, associated media partners to use imagery (still or moving) in marketing materials to promote future editions of the race, or any new race promoted by Lake District Sky Trails. I confirm that any imagery may be used to promote the race, including but not excluding online, in printed media, video, news or broadcast.
I confirm that I have read all race literature, as displayed on the website, or through links provided on the website.
I confirm that I agree to release Lake District Sky Trails, its staff, agents, representatives, associates, sponsors, marshals, and volunteers for any and all liability, including but not limited to claims, liability, damages, demands, causes of actions for any loss, damage, injury, claim, legal fees or action arising from my participation in Stickle Grind Vertical 650. This release extends to any claim made by my family, estate, heirs, or assigns arising from or in any way connected with the aforementioned activities. This release does not include a release to Lake District Sky Trails for acts of its own negligence.
Lake District Sky Trails accepts its responsibility to make its courses as safe as is reasonably practicable. However, adventurous activities are inherently hazardous and cannot be completely risk free, however hard we try. Accidents can happen without any contributory negligence from Lake District Sky Trails or its staff. Lake District Sky Trails can accept no responsibility for loss or damage to personal property or for personal injury not arising as a result of its own act or default. I understand and accept the above statements and accept that I have a responsibility to take careful note of instructions and to act in a way that will minimise the likelihood of injury. I am fit for the course and will inform Lake District Sky Trails before the course of any special medical conditions that might affect my safety.
I understand that Lake District Sky Trails reserves the right to change the date, course or event base or, if necessary, to cancel an event entirely, in the event of Force Majeure (that is, unpredictable events beyond their reasonable control including, without limitation, natural disasters, war, civil or political unrest, terrorism, epidemics, pandemics and extreme weather). No refund will be available in this eventuality. In the event of cancellation by Lake District Sky Trails, Lake District Sky Trails will not be liable for any costs that I may have incurred relating to the event, including (but not limited to) travel, accommodation and/or other costs.
Lake District Sky Trails is a trading name of LDST Ltd.