We are delighted to be offering this unique and beautiful 10km trail run in partnership with the National Trust.
Enter below via SI Entries
Entries open 1st August | Price: Variable | Distance: 5km | Fancy Dress
The Course:
Start at the Stickle Barn, head up towards Stickle Tarn and turn left and then left again to come back into the 'main NT carpark', run through here and then pick up the Cumbria Way to join the 10km route at Side House. A mildly technical trail now leads you towards Baysbrown Campsite, but turn left over the 'big bridge' and follow the marked trails to a very small road section (parents must take care with kids here; marshals will be present on the road section) and then pick up the well prepared trail back to Stickle Barn, where you will be directed to re-run the first loop around the pub, before coming back into the finish at the west side of the Octoberfest activities.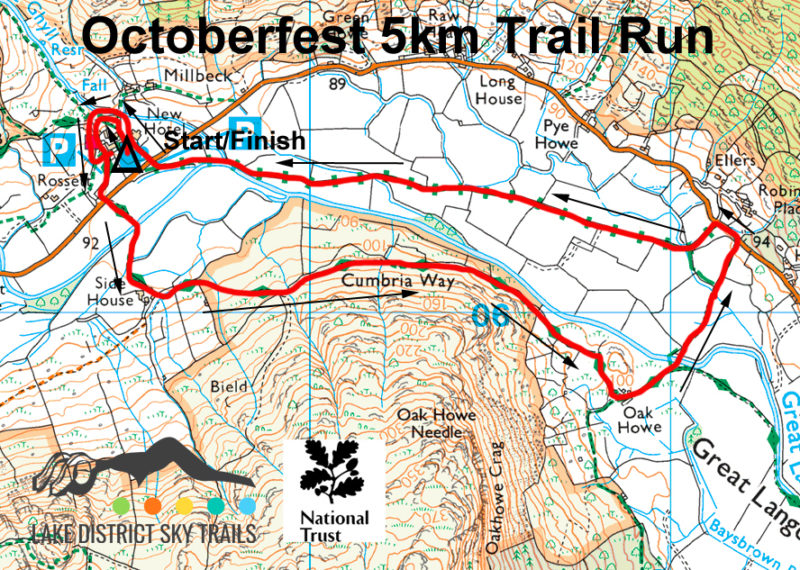 What you get:
5km of fully marked trails and footpaths
5km of marshals in all the right places
Some hidden secrets for the kids to find (not sweets!! - think animals)
Professional Events Team delivering the fun run
An awesome race around the valley of Great Langdale
Free photo's from the event
Music in the evening and night to chill out and relax to
Great kids activities for the whole family
Entry requirements
You must be at least 12 years old as of 'the date of the race' to enter Langdale 5km Trail Race.
If you are under 12, you will need to run with an adult.
Entries are via SI Entries and are not vetted: however, Langdale 5km Trail Run is testing underfoot in some places, so please be aware.
By entering the race, you are attesting your, and any dependants you may have with you, competence to complete the course.
Race rules
Health and wellbeing
You must be confident of your own (or dependants) ability to enter and complete the race.
You must be fit, and in good health on race day.
You must take responsibility for yourself, and fellow racers, during the race.
Safety on the course
You must follow the countryside code, especially in relation to shutting gates. It is strictly forbidden to climb any walls or fences.
You must stay on the fully way-marked course.
You must follow the race route, as dictated by the Race Director or any race officials or course marshals.
The Race Director reserves the right to cancel the race in extreme circumstances.
Running with dogs
If you are running with your 4 legged friend, then please respect others and keep your dog on a lead at all times.
If you know your dog doesn't like crowds, then start at the rear of the field and work your way through.
All dog mess MUST be cleared up on route, with the bag carried with you. DO NOT leave the bag on a nearby fence for collection later.