We are delighted to be offering this unique and beautiful 10km trail run in partnership with the National Trust.
Entries opening very soon | Price: £22.50 | Location: Stickle Barn | Distance: 10km
The Course:
Start in the centre of Great Langdale at the Stickle Barn and head immediately uphill out of the back of the pub, turn swiftly left and ascend the very technical path and then run the wonderfully technical trail under Far Eastern Raven, then Far Raven and eventually Raven Crag dropping from here to the Old Dungeon Ghyll pub. From here run up Mickleden being blown away by the awesome views and turn 'hard' left at the end of the wall to cross the Great Langdale Beck and head back on rough but runnable trails to Stool End Farm.
Continuing now on tarmac surfaces you take the private road to the junction to turn right and then left into the Great Langdale Campsite. A quick run in the campsite turns you right up through a block of woods to turn left as you leave them and re-join the Cumbria Way. Follow Lakeland trails towards Baysbrown Campsite but turn 'hard' left and over the big bridge for another crossing of the 'Beck'.
Good prepared trails bring you back to the finish at the Stickle Barn.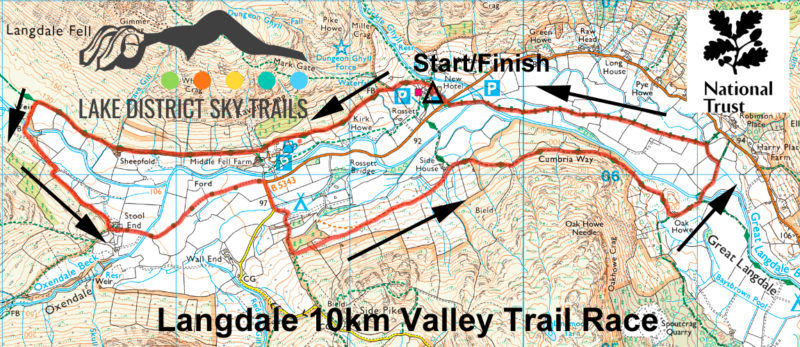 What you get:
10km of fully marked trails and footpaths
Professional Events Team delivering the race
An awesome race around the valley of Great Langdale
Free photo's from the event
Music in the evening and night to chill out and relax to
Key dates and Timings:
Date: 17 October 2020 - Saturday
Registration: 08:30 to 10:00
Race Start: 10:30
First finishers: 11:15
Course closes: 13:00
Clothing and Equipment:
This is a valley based 10km trail race, therefore we are not enforcing runners to carry any clothing with them, apart from what they are wearing.
However; a word of caution, the weather in Great Langdale can be pretty vicious and we do advise to bring a waterproof with you to use, if the conditions should dictate. We also advise the use of 'trail' or 'fell' shoes, as the course is over rough and varied terrain and slips and trips are likely to happen.
Entry requirements
You must be at least 15 years old as of 'the date of the race' to enter Langdale Trail Race. If you are under 18, you will need to provide the written consent of a parent/guardian at the time of entry.
Entries are via SI Entries and are not vetted: however, Langdale Trail Race is a difficult 10k and we expect you to come prepared. You will be tackling tough and technical terrain at points, including 250m ascent/descent.
By entering the race, you are attesting your competence to complete the course.
Any competitor found to have deliberately misled the Race Director in this respect will be expelled from the race and all future associated races.
Race rules
Health and wellbeing
You must be confident of your own ability to enter and complete the race.
You must be fit, and in good health on race day.
You must take responsibility for yourself, and fellow racers, during the race.
Any runner must halt their race to offer help to any fellow competitor who is in trouble or injured. The race directors will reward anyone who does stop to help. Anyone who is found not to have helped a fellow competitor maybe disqualified and barred from entering any future Lake District Sky Trails events.
Safety on the course
You must follow the countryside code, especially in relation to shutting gates. It is strictly forbidden to climb any walls or fences.
You must stay on the fully way-marked course.
You must follow the race route, as dictated by the Race Director or any race officials or course marshals.
The Race Director reserves the right to cancel the race in extreme circumstances.
Running with dogs
Although we love dogs and run with them as our regular training partners, we regret that running with dogs is not allowed at the Langdale 10km Trail Race
Lake District Sky Trails is a trading name of LDST Ltd.