"The weekend struck the perfect balance between getting in enough theory but still spending plenty of time out on the hills getting to grips with the terrain. The scrambling was definitely a highlight for me, loved getting up high on the ridges and I couldn't have felt more secure under Charlie's experienced guidance."
Victoria M
About the course
Back for the fourth year, the Lakes Sky Ultra training weekend is designed to equip you with the skills and confidence you'll need to run and scramble on technical mountain terrain. Based in the heart of the Lake District, this is an immersive weekend of skills training and mountain-craft: expect full days; extreme running; exposed ridges; great company; and a smile from ear to ear. You will learn to:
Run over rough and unstable ground.
Run ridge-lines, and become familiar with exposed ground, gaining an understanding how one wrong foot placement, a trip or slip from such ground could cause you serious injury.
Run down ridge-lines that are severe in nature.
Scramble over open rock.
Climb/ascend steep ground.
If you complete the course successfully, you will have gained a sound base of the necessary skills to complete Lakes Sky Ultra or another equivalent race. But remember: once the course is over and your entry is accepted, your training has just begun! We expect you to get back out there and practice - then go out again and practice some more ...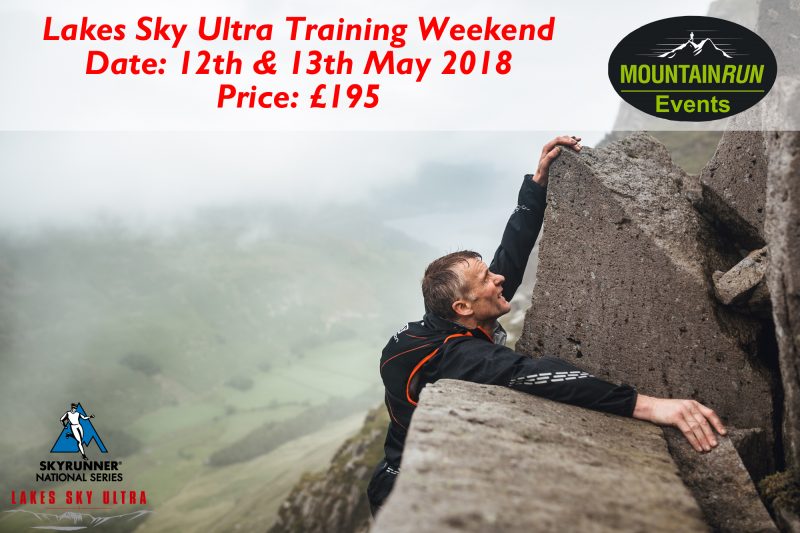 Who is it for?
The Lakes Sky Ultra training weekend is designed for those with some previous mountain running experience. It is ideal for anyone who wants to build their running and scrambling skills or to prepare for extreme mountain races such as Lakes Sky Ultra, Glencoe Skyline, Mourne Skyline MTR or Tromso. There are limitations – we can't cure your fear of heights or get rid of vertigo – but we can help you to build confidence and experience in a controlled environment and in the safety of a small group.
If you are completely new to this form of running, our Scafell Sky Race training weekend may be more appropriate to your needs (full details and booking info coming soon).
Need to know more? For more details please contact enquiries@mountainrun.co.uk.
What's included
Accommodation at the YHA Helvellyn on Saturday night (Friday night accommodation can be arranged on request at additional cost)
Saturday evening meal at the Travellers Rest pub in Glenridding
Sunday morning breakfast
Two full days of guided running and instruction in the mountains surrounding the Glenridding Valley
Weekend programme
Day 1: Saturday 12 May
08:30: Arrive in Glenridding
09:00: Meet/greet & course briefing
10:00 - 16:00: Skills training in the mountains. Please note that due to the nature of this session, warm clothing will be required – single-layer running clothes are not suitable. We will cover:
Confidence on rough ground
Safety on steep ground
Basic navigation for runners,geared around ability to self-rescue and navigate off the course by non-marked routes
Uphill & Downhill running techniques
Appropriate spare/emergency clothing
Course markings
Sound Mountain Judgement: what it is and how to apply it.
16:00 - 18:00: Review of the day, including:
Mountain running kit selection
Training
Nutrition
Q&A
19:30 'till late Dinner at the Travellers' Rest Pub, Glenridding – followed by drinks, mountain chat and tall tales at the bar if the mood takes us there …

Day 2: Sunday 13 May

07:30 Breakfast at YHA Helvellyn
08:30 - 15:30 (approx): Guided run and scramble, likely to include:
Lakes Sky Ultra race route along Striding Edge
Descent off Nethermost Pike
Grade 2 Scramble on Eagle Crag
Ascent of Pinnacle Ridge (Grade 3)
Return to Greenside/Helvellyn YHA
Please note that the precise route and distance covered will be dictated by the fitness of the group and speed of travel.
16:00: Finish and depart
What to bring
Your usual mountain running gear for two days on the hill, including aggressive soled footwear
Hill food for both days (this includes your lunches and snacks as required)
Waterproof jacket & trousers
Spare long sleeved base layer
Primaloft layer or similar (NO COTTON)
Hat, Buff or similar
Gloves: fingerless 'via ferrata' gloves work very well for cold rock when scrambling
Head Torch
Survival Bag
Whistle
Map & Compass – Harvey's Lake District 1:40000 recommended
Race vest or small pack to carry your kit.
Please be aware we might be moving at slow speeds at some points during the day: please account for this in your clothing selection. Check the weather forecast in advance of the training weekend and come prepared.