Home » Lakes Sky Ultra™ 2018 » Spectator Information
Spectator Information for Lakes Sky Ultra
Your essential guide to spectating and supporting at Lakes Sky Ultra, 14 July 2018.
Essential links
Live Tracking: available from 07:00 on Race Day; check here for live link.
Where to go on the course
We recommend the following top spots for race viewing – see below for a chart of estimated times for the runners' arrival at each location.
CP1 (Grisedale Haus): the first manned checkpoint of the race. Relatively low level, although the walk up to it is strenuous you'll enjoy a real sense of scale, with Dollywaggon Pike, Fairfield and Seat Sandal all around you.
Helvellyn summit plateau: unrivalled race viewing on a clear day, with runners crossing both Swirrall Edge (between CP 1 & 2, 08:45–10:35 approx) and Striding Edge (between CP 4 & 5, 09:50–12:10 approx), but be warned: this is anexposed summit and you should be well equipped and experienced to venture here.
CP7 (Patterdale): enjoy a tea or coffee at Side Farm Café if you support the race from here, but please do NOT park at the cafe; park at the Patterdale Hotel, opposite, or in nearby Glenridding (20 minutes walk).
Threshthwaite Mouth (between CP9 & 1017): a spectacular spot to enjoy some fast, technical descending and cheer runners up Stoney Cove Pike. Park at Hartsop and walk up Threshthwaite Glen (3km approx.) or follow the race markings back from the Kirkstone Pass.
CP10 Kirkstone Pass: enjoy a beer at the Kirstone Pass Inn – England's answer to an Alpine hut! Park at Kirkstone Pass or Red Pitt, 800m to the north. Watch runners race up Red Screes as they contest the King of the Mountains uphill Super Stage, or head to the summit to catch their fast and furious descent to Ambleside, with race positions and the King of the Mountains downhill Super Stage at stake!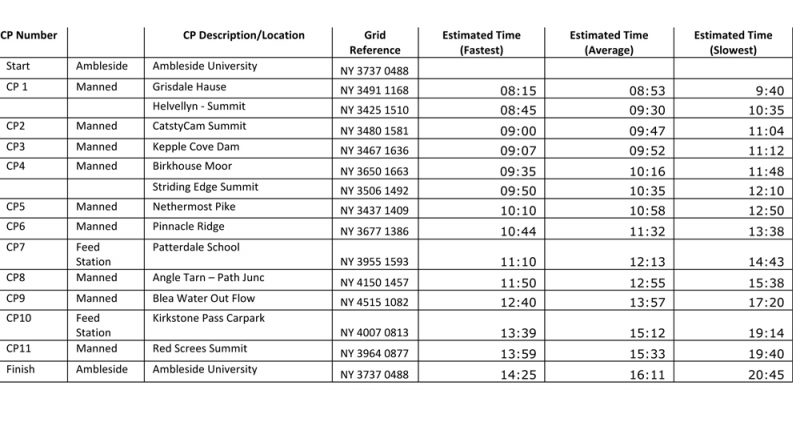 Please do:
Bring your cowbell! If you don't have one yet, don't worry: you can buy yours from Race HQ at the University of Cumbria in Ambleside, or from the Patterdale and Kirkstone Check Points. They're just £6 and will make a great addition to your life!
Be considerate and courteous to other fell users and to the general public. Feel free to let others know about the race and to explain to them what the racers are putting themselves through.
Please do not:
Cheer and/or ring cowbells in the residential streets of Ambleside at the race start: the residents will not want to hear the clatter of cowbells at 7 a.m.!
Cheer from the ascent of Red Screes, where you may impede runners' progress. Instead, please cheer from the base of the climb, or the summit.
Leave litter: please ensure that you take everything home with you, or bring it to one of our feed stations where we can dispose of it. If you see other litter in the fells, then use some extra calories to bend down and pick it up. Wombling is good for your soul - if you doubt that, ask Bungo, Orinoco or Great Uncle Bulgaria!!